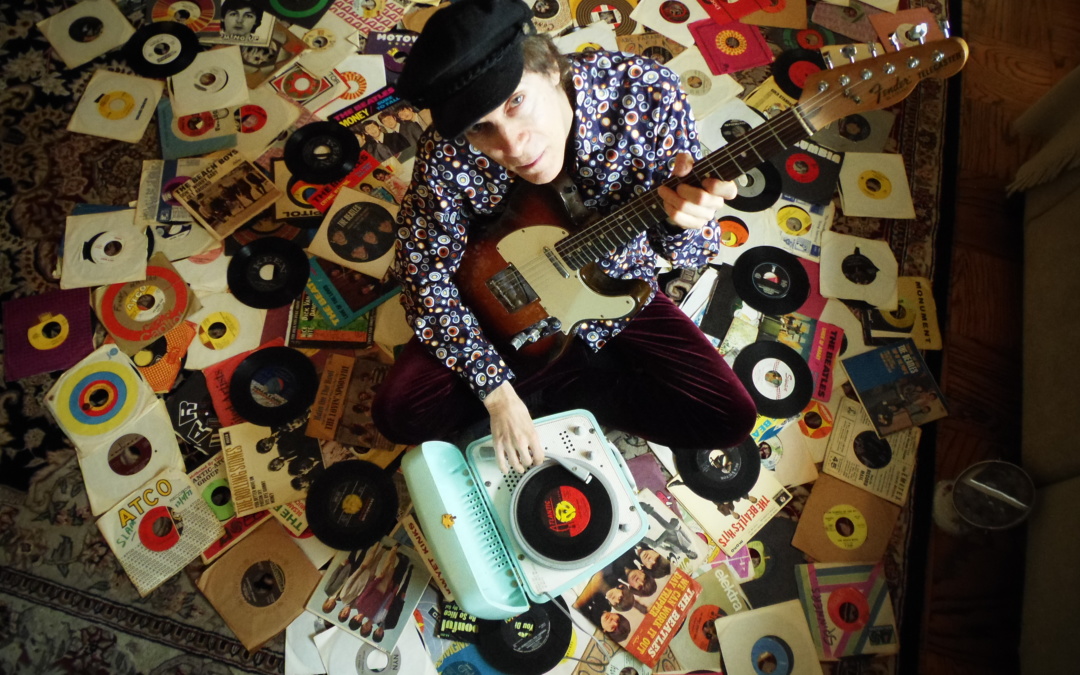 Richard X. Heyman is no newbie to the music scene. His first single "Vacation" was released in 1980 and, since then, his journey has found him producing genre-bending ear worms that simply work. His years of service to the industry at large, his musical talents, and his ability to captivate a person with witty banter have all made it so he is an undeniable leader. We touched on his new album Pop Circles, and are happy to have found time to sit down with him and discuss some of the finer things in life. Like working with your significant other. And cats.
There is a trend among musicians to invite guest musicians to record with them on their albums, why is it appealing to you to invite Julia and Chris to help you with some tracks on Pop Circles?
I really wanted to have real strings on the songs that had orchestration.  Julia Kent is a neighbor of ours and she is a sensational cellist. She agreed to come over to our home studio (i.e., our bedroom) and lay down the cello parts.  We overdubbed her several times to create a cello section. Chris Jenkins is one of the associate deans at Oberlin College, Nancy's alma mater. We worked with him in the past and he happened to be in New York City, so he stopped by with his viola.  In the end, the two of them were overdubbed as much as 17 times. It's amazing what you can accomplish in your bedroom these days.
You are very much a one man band artist, this of course shows your immense versatility as an artist.  What are the advantages and disadvantages of approach when making music/an album?
The advantage is obviously the autonomy.  You can work more in the mode of a painter or a novelist.  I like having that freedom to rely on my instincts and to keep moving forward through the process.  On the downside, I know other musicians will have different insights and ideas that might take the music in a direction I would not have thought of.  I do have Nancy there. She is a fine musician and has great ears. So between the two of us, there is a collaborative work ethic.
Tell us more about your collection of vintage instruments, which is your favourite and why you like to use them when recording?
I have two vintage drum sets – a Ludwig and a Rogers, both from the early 60's.  Fortunately, the studio where I recorded the drums (Eastside Sound) had a vintage Rogers kit, so I used that for "Pop Circles."  I have a late 70's Fender Telecaster and a 1967 Rickenbacker 360 12-string. There are two more Ricks – a '65 375 and '66 335, a '62 Hot Rod Strat reissue, a contemporary PRS Starla, a Martin Shenandoah acoustic, a Dan Electro baritone and a few other assorted instruments.  We use a Dan Electro longhorn reissue bass and a Hofner single cutaway hollow body vintage bass.
You are a part of the Doughboys and the song "Why Can't She See Me?" got voted one of the coolest songs of all time, how did that feel?
Pretty darn good.
You included five of your own versions of Doughboys tracks on Pop Circles, why did you personally choose to revisit these tracks and how do the Doughboys feel about this?
I just wanted to see how those songs would sound from the songwriter's perspective.  I don't really know how the other Doughboys feel about them.
Herman's Hermit's were are an amazing band, though I may not have personally been about when they came to prominence I have heard them and adore them.  How did Heyman, Hoosier and Herman happen and what did the vocals Peter Noone bring to that EP that no other artist could bring?
Peter Noone and I were on Cypress/A&M Records in the late 80's and we got to know each other.  He was interested in recording some of my songs. Unfortunately, the song he wanted to do was slated to be my next single, but eventually we got together here in New York and did that EP.  Peter has an ethereal tone in his voice and an incredible range, from low baritone to high tenor. His high notes have an angelic quality and his low end has a fullness that is very appealing.
You've worked with a lot of your musical heroes, whom did you feel most humbled working with and what was the experience like working with them?
Each experience is different.  Link Wray had the greatest guitar tone. The only way to explain it was it sounded dirty and clean at the same time.  And Brian Wilson – what can you say? It's so overwhelming, all the beautiful music that he created. Playing with Mary Weiss of the Shangri-Las was a total gas.  She is rock'n'roll personified and a truly nice person, very cool singer and performer.
On Pop Circles your wife Nancy plays bass for you, what other musical talents does Nancy have?
Along with being a fabulous bass player, Nancy plays guitar and keyboards.  She also sings harmony as well as engineering the recordings.
And did the cats help in any way with the music of Pop Circles as a whole?  ?
Their presence is felt in every note.  They loved the viola and cello, though I didn't have the heart to tell them what the strings were made from.
I love the Heymanuscripts, do you plan to write more?
Thanks.  I'm glad you enjoyed the book.  Haven't thought about another one, but who knows?
Thank you so much for giving Imperfect Fifth this interview, is there anything you would like to add?
I would love for people to hear the new album.  It's available on www.richardxheyman.com, and I welcome their comments about "Pop Circles."  Thanks very much!