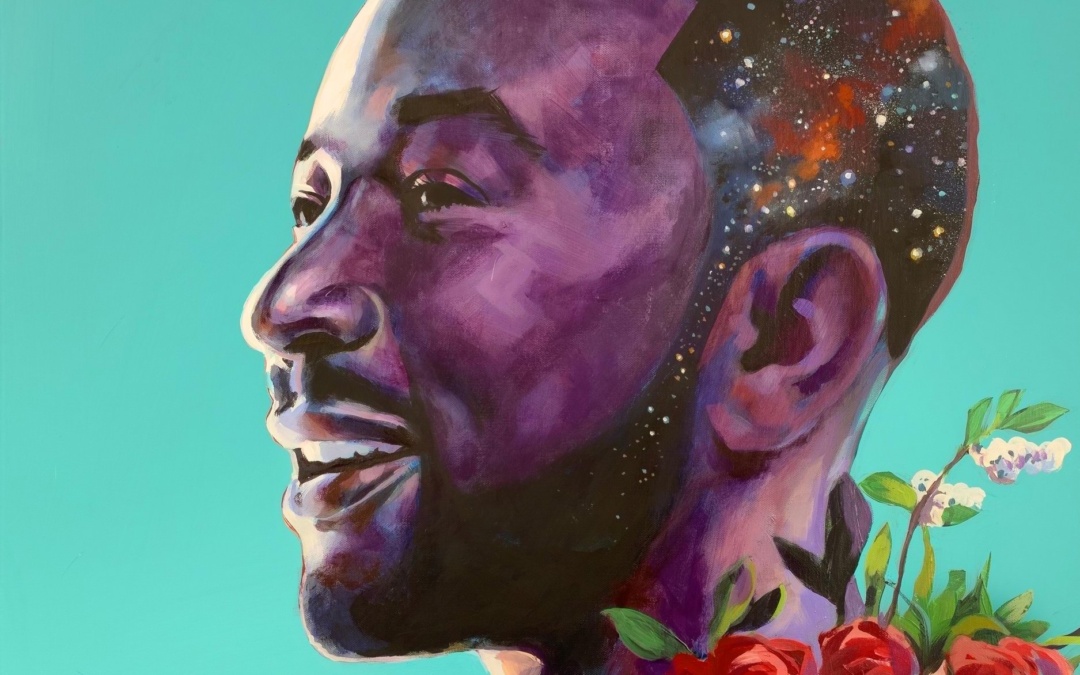 John Legend released his much-anticipated album Bigger Love on Friday. Inspired by his wife, and family, the album explores themes of love, sensuality, and intimacy, but also draws from the extensive tradition of black music that has influenced Legend as an artist. Among the anxiety induced by the pandemic, and the outraged and mourning protesters flooding the streets, Legend explains how he intends for this album to fit: "During these painful times, some of us may wonder if it's ok to laugh or dance or be romantic… but it's important for us to continue to show the world the fullness of what it is to be black and human. Through our art, we are able to do that. This album is a celebration of love, joy, sensuality, hope, and resilience, the things that make our culture so beautiful and influential." In a nod to his debut album Get Lifted, Legend offers Bigger Love as an uplifting, heartfelt work that inspires you to love, dance, and be happy.
Listening to this album, the overarching quality that comes to mind is soul. Bigger Love is soulful in its music, Legend's voice and the surrounding harmonies, and even its message. The use of "big" in the title refers to the album's expansive amounts of joy, soulfulness, and diverse range of musical styles. The tracks embody many different genres, and expressive vocals, gospel-like harmonies, and Legend's expert falsetto are ever-present. Every song has an easy, untroubled sound to it, but they also have unique touches that elevate them to a higher level.
"Ooh Laa" tells you right away what the album is going to be like: a clash of contrasting forces. It kicks things off with two wildly different genres– 50's doo-wop and trap music. The doo-wop comes from a sample of a 50s recording of the song "I Only Have Eyes For You" by the Flamingos. Continuing in the vein of hip-hop, "Actions" samples a song known from "The Next Episode" by Dr. Dre and Snoop Dogg, reminding listeners of that era of hip-hop. The central lyric plays on the phrase "actions speak louder than words," a mantra that is especially relevant to the protests that have been happening recently.
Moving over to funk, "I Do" and "One Life" are dance songs. They have groovy basslines and are mellow but have catchy choruses that make you want to move. "One Life" stretches into contemporary jazz and uses strings to add some individuality. The chorus, with lyrics like "We've got one life, I won't waste it," are universal and inspiring, they really feed into the uplifting sentiment of the album.
Beginning with "Wild" featuring Gary Clark Jr, we begin to see a lot of slow jams and ballads, but there is still some contrasting material inserted in between. "Wild" tugs at you. It is a song that you would play in the car on an open road at dusk with the windows down. Its hard-hitting beat and the chromatic upwards motion in the guitar part pulls you along with it. "Bigger Love" takes a right turn with its Afro-Caribbean beat, but continues to include elements of gospel and house music in the vocals of featured artist Natalie Imani. It really drives the central message of the album: hope, optimism, and resilience.
Bringing the energy back down, "U Move, I Move" featuring Jhené Aiko is about two people in complete harmony. What's unique about this track is how the beginning has a very minimal amount of music. Legend's voice really stands on its own. When the music does come in, it's swelling and romantic. Aiko's voice complements Legend's nicely, but it has its own distinct timbre that adds interest to the song. Despite being recorded in quarantine, the effortless harmonies between the duo are coordinated perfectly. In "Favourite Place", short brushstrokes of harmonies paint the background. The tune is sultry and alluring, with more trap beats and gospel harmonies. "Slow Cooker" on the other hand, is all about taking it slow. It's infused with cuisine-related metaphors, which work well for Legend since he and his wife Chrissy both like to cook. The swaying 6/8 time makes one think of a couple slowly moving to the music, delicately enveloped in an intimate moment.
Just when you think the album has hit a plateau when it comes to genres, some folk music is thrown in. "Focused" reaches out to ordinary people with lyrics like "everybody has their days when the work feels like chains." Its defining musical characteristic is the acoustic guitar, but the connections to gospel and jazz remain strong thanks to the harmonies and jazz chords. "Conversations in the Dark" is a soulful love song reminiscent of Legend's 2013 hit "All of Me." It highlights the small intimate moments in a relationship. "Don't Walk Away" features artist Koffee, who pilots a return to the Afro-Caribbean flavour from earlier. Gentle harmonies subtly support the infectious chorus that really highlights Legend's control over his voice in this song.
For the last four tracks, deep emotions move to the forefront. "Remember Us" featuring Rapsody uses lounge piano, flute flutters, and deep bass to make a beautiful musical foundation that supports the emotional lyrics which remember some departed friends. Rapsody adds a contrasting but fitting quality to the music, expertly spitting out lyrics but still matching the vibe of the song. "I'm Ready" featuring Camper recalls Marvin Gaye's soul-stirring music and is a tribute to him in that way. This track has a very cool a capella beginning that establishes some surprising rhythms and harmonic changes which continue throughout the entire song. "Always" is another love song. It has a simple, sweet message and relatively straightforward music but still has some twists along the way.
The final song, "Never Break" is an anthem for 2020. It discusses the power of the human spirit, something that is crucial for the valiant protesters around the world. Suspended chords create a deep sense of passion, which is amplified by the wonderfully jazzy chords. Towards the end, there's a powerful build-up before the haunting final "no" that instills a great sense of resolve within you. The track, with its resilient sentiment and hopeful mood, is the perfect ending to Bigger Love.
Ultimately, this is an album you won't want to miss. It sweeps through and lifts you up at a time when things feel low. Give it a listen on Spotify or other streaming platforms, and be sure to check out the amazing cover art painted by artist Charly Palmer.