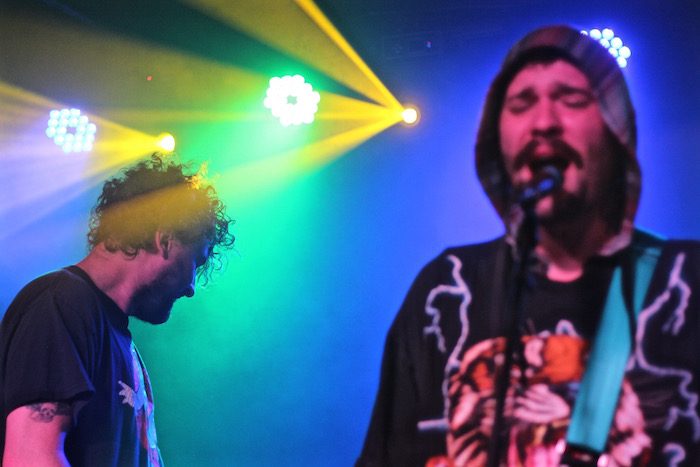 When you think you've read all the end of year lists you can take, we're still stringing our (very important) short ones out, to make sure there's plenty of new music discovery at your fingertips throughout the month! 2018 was a year of insane amounts of music coverage, a bevy of incredible artists to choose from, and a really incredible list of new faces to dive into. While we don't keep track of new artists vs. veterans, we would like to highlight some of our favorite vocalists of the moment with you. Trust us — this was a really hard decision process, which is why it took us a little longer to get it to post. We wanted to highlight people that both entertain like the most insane, and who we believe truly deserve the spotlight for it as well. You might not agree, but this may lead you on a tangent of music discovery, and we're all for that. Without further ado, check out our Top 7 Male Vocalists of 2018 below!
Holy White Hounds is a group of guys we have been following for a while. Hailing from Des Moines, IA, the foursome emerges more triumphant and in-your-face with each new track, paving the way for their most recent full-length release – Say It With Your Mouth – which will make its debut on December 22nd. And don't let their gritty attitudes and rough exterior fool you. Ambrose, Brent, James, and Seth are full of heart, a force in motion when they're together, and really know how to relate to their audience. (While also making fun of them. But it's charming, and we're totally into it.) That, coupled with those edgy vocals, and we've got a rock band that just won't quit! (Thankfully. Please don't? We need you.)
We may have been a little late to the game on this one, but pop/r&b singer/songwriter Dermot Kennedy is the Dubliner of everyone's dreams. We were wandering SXSW this year when our friends at PlaylistPlay coerced us into popping into a church to listen to one of their favorite musicians. Honestly, we can't think of a better way to first experience the insanely beautiful vocals Kennedy provides. His soundscapes are freeing, intense and wonderful in their  disposition. If you don't trust us, take a listen to his debut EP Doves & Ravens, or his most recent single "Power Over Me", which was released in October.
Atlanta, Georgia-based Algiers absolutely astonished us at Sasquatch Music Festival this year. Lead singer Franklin James Fisher approached the stage with a Jimi Hendrix flare, and vocals that just do not quit. There is an enticing, soulful energy to their sound, with just a hint of reverb and incredible vintage influence that keeps us coming back for more. We can't wait to hear their follow-up to 2017's The Underside of Power, but are totally keen on waiting patiently for their next stunner full-length.
You've heard of him. We're not introducing this powerhouse to anyone, and we feel pretty darn good about that fact. Childish Gambino – aka the triple threat of everyone's dreams – hits our list this year, if not only for his wildly eye-opening video for "This Is America". We've been super into all of his work over the years, and our hearts swoon with each new line he spins, opening our eyes to an array of important – and often overlooked – issues. The man is an absolute enigma, and perhaps that's what keeps us coming back for more time and time again.
We know we've harped on how incredible Judah & The Lion is, and now is not the time to stop. On December 12th, the (now) trio – who is joined by a rotating cast of instrumentalists and backup vocalists for their performances – released two singles, titled "Pep Talk" and "Quarter-Life Crisis", landing themselves back on our radar. Check it out, and then dive into their catalogue if you haven't already. Their music will throw you into that good mood you've been craving.
Lionman – who we first experienced in May when he released the visual for his single "Don't You Dare". His vocals are directly associated with the term "smooth as honey", and we're drawn in from the first line. His hair is absolutely divine, His latest single "In My Letter" has a softer sound to it, and a rhythm that reminds us of some of our favorite OG Usher songs. This artist is definitely one to watch.
If you're into soulful, robust vocals that establish a mood, and somehow manage to get everyone in their vicinity to "feel the same way," then Michael Kight is the way to go. In May, we had some thoughts on his track "Clear", and still maintain that he was impressive on every level of musicianship. We count him as one of our favorite discoveries of the year, and look forward to more from him in the future!