When renting an apartment with an ex, one may not expect to feel refreshed and optimistic about a new day. Lauren Hulbert, however, felt just that. This is when she got the inspiration for her bright new track, "Honeydew", which is to appear on her upcoming EP, Superbloom, out Oct. 30.
Supported by gentle acoustic guitar strums and synths, the music provides a summery warm tone as Hulbert sings about her newfound joy and happiness that she finds herself experiencing at the start of every new day.  Comfort radiates from the track as you hear music that might be heard on the beach.  By the end of the track, you will understand the happy and free feeling Hulbert has been singing about as a feeling of weightlessness takes over.  "Honeydew" is not only a song about loving someone else, it is a song about loving yourself.
Hulbert says of the inspiration for the track:
I think I was happy to be in one place, making a temporary home, in our own space, with a nice, friendly neighbor and a little bodega at the end of our alleyway. It was a really cute spot. We got to make a little life for ourselves. We had a lot of hope for our future together and I remember that feeling really good.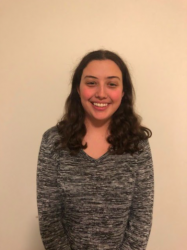 Latest posts by Tiffany Czech
(see all)