The new track from pop-rock band KITTEN has dropped, and it asks the question everybody seems to have on their mind these days. "What Year Are We In" is exactly the type of song that you may expect people to listen to years from now in order to get an idea of what life may have been like in the year 2020. Not only does it make the expected pandemic references, it also offers commentary on other various things that have come to shape the year like social justice movements, worry of climate change, and the fact that movies don't really seem new anymore.
It isn't only the lyrics that make you question the era. Sonically, the track is reminiscent of the 90s punk scene, a reminder that maybe none of these time periods are really all that far. KITTEN successfully solidifies any suspicions that 2020 is the year that seems to revisit other decades in a plethora of ways.
Brainchild Chloe Chaidez says:
It's a bizarre time to be alive. We have history at our fingertips. Teenagers wear Joy Division t-shirts, and moms listen to Drake. 'What Year Are We In?' is a funny question to pose, but it also feels like the simplest way of conveying a feeling.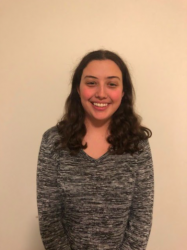 Latest posts by Tiffany Czech
(see all)