Standing in the fog at the end of a relationship, you may be tempted to ask that one terrifying question. Fretland are unafraid to approach this question on their new track "Do You Think of Me" with just as much grace and wonder as pain and sorrow. With two equally captivating vocalists at the mic, the story of two people going their separate ways comes to life. With the help of just an acoustic guitar and a glimmer of piano, Fretland create an intimate conversation illustrated by revealing and open lyrics that paint vulnerability on the former lovers' sleeves.
"Do You Think of Me" is a testament to how even the seemingly simplest of situations can have their layers peeled back to reveal complex emotions and struggles. After all, we humans are complex beings and the members of Fretland know this all too well. Brainchild Hillary Grace Fretland reveals:
I want to understand all parts of me that make me human so that I can share them, and so maybe someone somewhere recognizes themselves as the villain and learns to love themselves anyway. There's so much shame in a failed relationship, we always want to know who's at fault. It's never been that simple for me.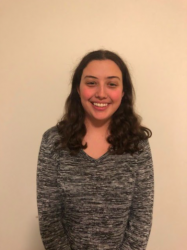 Latest posts by Tiffany Czech
(see all)