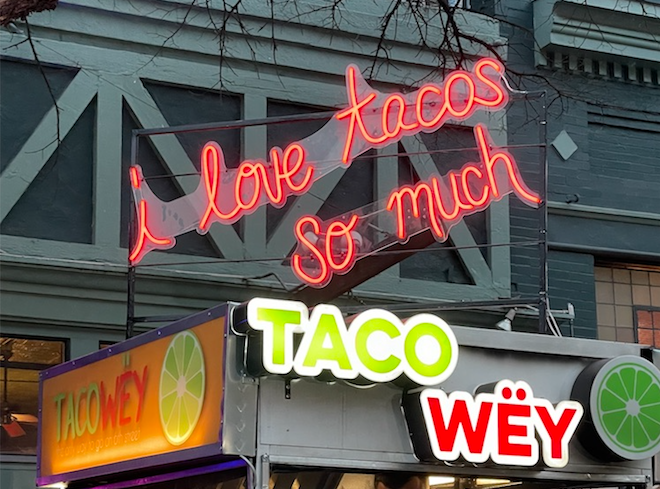 I finally got to attend my first SXSW!
Full disclosure: my daughter, Meredith, is the creator and Editor in Chief for ImperfectFifth. I have wanted to go to Austin to cover SXSW as a writer since she first went five years ago. I heard stories of all the people she had met, the music she had heard, and the movies she had seen. I was all set to go in 2020, but we all know how that ended. I 'attended' virtually last year, but as great as it was to see all the content, we all know it isn't the same.
This year, though, I finally got to attend SXSW!
Once we found out that Meredith and Erin Zimmerman (also my daughter) got their press and photo badges to cover the festival, I got a link to the schedule and immediately froze. There is so much content to choose from! Even though I knew I would only be there for a short, two-day window, narrowing down the possibilities seemed daunting. Enter Google Docs. Meredith created a spreadsheet that had a tab for each day, a different color for each of us, and a column to indicate if the event was in person or VOD. She has done this each year to organize coverage. I also knew that there were two kinds of events – official and unofficial. Since I didn't have a badge, I wasn't eligible to attend a portion of the official events. However, I was able to attend most of the unofficial events. The upshot? During the time that I was there, we decided to attend anything that A) didn't require a badge; and B) sounded interesting. Pressure off! Fortunately, both of them found some things that I didn't even see in the schedule, and I love trying all the new things!
We arrived on Sunday, March 13th and got in line for the Create & Cultivate Pop Up. This was an unofficial event, so didn't require a badge. However, we did have to pre-register, and spots filled up in the blink of an eye! There were speakers, sponsorship installations, refreshments, and an amazing swag bag! It was a 'make a trip back to the car to drop things off before we could continue with our day' sized bag. I subscribe to the Create & Cultivate newsletter and this event was the newsletter come to life.
In our walks to and from the car, I saw a proliferation of movie posters for Tony Hawk: Until the Wheels Fall Off and the upcoming Nicholas Cage film, The Unbearable Weight of Massive Talent. Each film had already had its premiere, but I made notes (in my newly acquired notebook from my gift bag) to see both of them once they got distribution.
After walking through the Convention Center to pick up badges, we took a stroll down Rainey Street, where we had the most amazing fresh mini donuts. There were also several houses that had exhibits (we saw you CNN and "Summer In Argyle"), most open to non-badge wearers as well. The one that caught our eyes was the Peacock Playground. They had taken some of their new shows and created playground games out of them. You could shoot hoops in the "Bel Air" booth or seasaw with a "Joe vs. Carole" backdrop, among other things. Our personal favorite? You could make a music video in the "Girls 5 Eva" booth. Yes, we did and here it is! We also had drinks and snacks and would have gotten a handmade t-shirt if the t-shirt people hadn't gone on break. It was all outside and was a great way to spend some time while we learned more about Peacock and its new content.
By now, it was time for a late lunch which we ate at the Moonshine Patio Bar and Grill. I had my first ever chicken and waffles – did not disappoint! We also used this time to map out our route for the rest of the afternoon.
The first place we headed after lunch was to the WarnerMedia House. While a lot of the activity for SXSW takes place near the convention center, there are things spread throughout downtown. The several block walk to the WarnerMedia House took us past the Porsche Unseen building. As a major sponsor, Porsche had several presentations and displays scheduled for badge holders; however, they did have an amazing car parked outside that any of us could drool over!
The WarnerMedia House had THE exhibit we had come to see. The Batman had been released on March 4, but we hadn't gotten a chance to see it before going to Austin. This exhibit included costumes from all the main characters, as well as props from the movie. Other DC content, like Peacemaker helmets and other franchise NFTs, games, and artwork were represented as well. The highlight, though, was down the block and around the corner – the Bat Mobile from The Batman. Only a few people at a time were allowed in the garage, but we were able to walk around the car and look inside. I'm not a huge car fan, but it was a cool experience!
After the WarnerMedia House, we poked our heads into the Virtual Equality Lounge before we headed back up toward the convention center. We had RSVP'd to the Future Today Institute (FTI) 2040 House which was an installation that reflected 2040, based on future trends. When we entered, we walked through a facial reading station that texted a report to us that captured our heart rate, body temperature, mood, and social score. My heart rate and temperature were right on what was listed on my FitBit. My mood was 'sleepy' – not surprised! It also gave me the recommendation to eat some protein to uplift my mood. From there, we had some snacks and drinks, served the 2022 way. We did take away some 3D-printed drink mixes to use at home. I also discovered that chocolate is considered contraband in the year 2040! Even with all of the fun, we received an FTI 2022 Tech and Science Trends Report via email that covered key trends impacting 15+ topics. A very educational, informative, and fun space.
After a good night's sleep, we started the day getting our hair styled at the Jonathan Van Ness salon. The JVN Come As You Are Tour had taken over a current salon in downtown Austin and was the site of the product launch of his haircare products, JVN Hair. We knew he was speaking later, but the event was sold out. Erin gave us a heads up about the pop-up and we got ourselves scheduled. Very relaxing and such a fun way to spend a half-hour.
One of the host hotels for SXSW is the JW Marriott. We had parked our car there, so explored the different panels and lounges that were available. We were able to sit in on a panel entitled "What the 'She-cession' Will Teach Us About Hiring", which was a fascinating look at what hiring might look like as we head out of the pandemic. I know that it clarified some ideas I have for my own career going forward.
The second place that we discovered was the Future of Work Summit Lounge Presented by Indeed. It was located in a space close to the panel, so we stepped in to check it out and I am so glad we did! Indeed had career coaches on hand to chat with, they had a coffee/cocoa bar for a much-needed caffeine boost, and space to sit and charge your devices. They also had photographers taking headshots and tarot card readers. I thought that was an especially intuitive touch because the job search combines all the facets of your personality and life. Indeed also had a salary board where people could write where they lived, what their job is, and what they get paid, then post it. Salary transparency is vital to help people, especially women, get paid their worth.
Our next stop was closer to the convention center, but our first music stop – the SoundCloud Next Wav showcase. Although we were fifth in line when we got there, the line soon stretched around the block, and for good reason – the musical showcase presented by SoundCloud was great and the 30-minute presentation Vocals on the Go by Dub Academy was amazing. Dub Academy is a program based in Austin that helps musicians fine-tune their craft. It was super interesting to watch them create in real-time. It is clear that Soundcloud hosts showcases that people look forward to each year.
After leaving the showcase — and even though I had some amazing Mexican food and a couple of drinks there — I was in the mood for food from a food truck. Austin did not disappoint! We ate the most amazing corndogs but also had our choice of a myriad of other offerings. Our goal was to walk and eat so we could check out more things and that is exactly what we did.
After a break to grab some dinner, change clothes, and unload the car, we came back downtown, parked and walked 6th Street and some of the same areas we had walked during the day. There is a completely different vibe at night – everyone is ready to relax and really listen to some music. Walking in any direction, you could hear different genres of music emanating from venues in every direction. I was completely content to stand outside listening and people watching. We had a reservation to attend a showcase at Elysium later, so we relaxed with a few drinks at Iron Cactus before.
The showcase ran from 10:00 pm – 2:00 am at the Elysium. We found a place to sit and got to see Body Meat perform. The artist we came to see was Haru Nemuri. She is a singer/songwriter from Yokohama, Japan who has quite a fan base in the United States. The club quickly filled up when her set started at midnight. Nemuri's fans knew all the songs, even though most were sung in Japanese. She never stopped dancing and the audience matched her energy. Such a great way to end the evening!
I went home on Tuesday morning, so didn't get to see anything else live. I will say, though, that I have now seen Tony Hawk: Until the Wheels Fall Off, since it is on streaming platforms, and thought it was a very complete documentary. The camera work was breathtaking and well worth your time to watch. Now to catch The Unbearable Weight of Massive Talent!