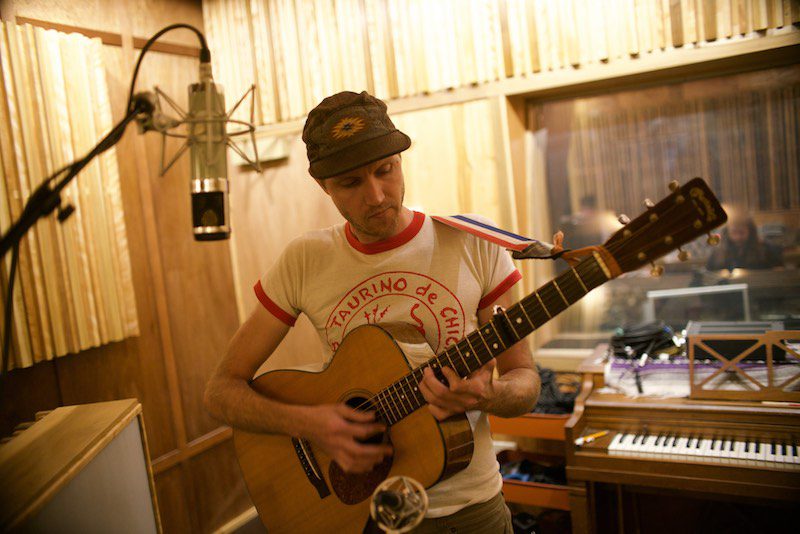 Folk-led, genre-blending musician Mike Pope has, arguably, been one of Southern California's best-kept secrets for years. He has certainly shared his talents by making the rounds at venues around San Diego, but it took some time before local record label Blind Owl could get him into a studio. There, he had so much material to work with that this week he released not only his debut album Songs For People (High & Low), but a bonus sophomore album titled Ripening (Ain't It Strange).
Songs For People (High & Low) is a more self-reflective album, dancing beautifully through the speakers with its haunting melodies, striking lyrics, and captivating musicianship. From the very first lines of literal self-reflective first track "Mirror," through the slightly quicker pace of "Steeped Cracked Rocks" and into the meandering "Teach To Sow," the listener is transported to a slower, quieter neck of the woods. The album itself continues at a beautiful, calm clip, the compositions as though the music is physically leading us into autumn nights with friends and family.
If you are looking for a particularly complex bit of picking, "St. Augustine" will breathe life into that craving. And while the 11-track album provides a particularly pleasant audible journey, taking the time to listen to "Maryanne," "Maryanne (Again)," and "Maryanne (Again and Again)" will light a special fire in your heart.
Dropping into the second album Ripening (Ain't It Strange), you can tell that what's to come will be equally pleasing. The heavier instrumentals and incorporation of more rock-focused compositions make for a completely different soundscape. While we were absolutely delighted by the percussion in the vocal-less second track "Homunculus," the fuzzier sound to "My Spirit Orbits" makes it the perfect track to bop to on vinyl with the windows open, autumn breeze flowing through.
Ripening feels, at its core, a little edgier, but still carries a similar warmth to its sister album, stirring energy and acute want for community leading into the colder months. Colder months if you, for instance, live anywhere BUT perpetually 70-something degree San Diego.
Take some time to play in the soundscape of both albums. Now that Mike Pope has found his way out of the San Diego-specific woodwork, we'd love to maintain a mainline to his work worldwide. If ever there were an opportunity to support and encourage an artist to head back into the studio sometime soon, this is it.