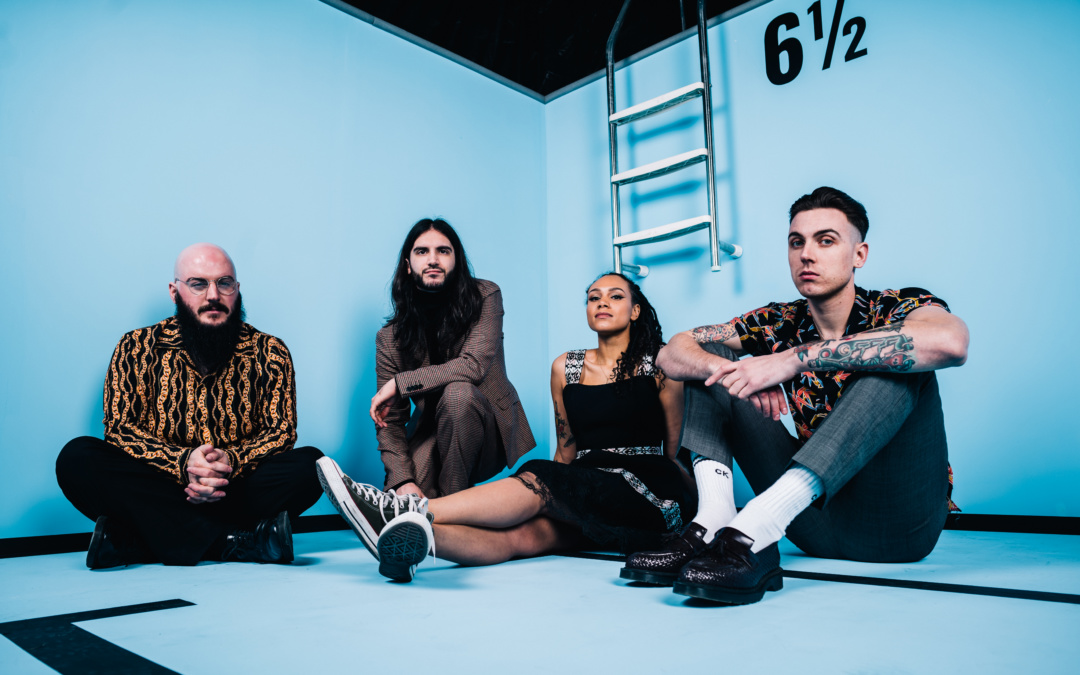 The Skints are absolutely phenomenal. Past their live performance, their music is enigmatic, their personalities are so fun, and there's just a sense of community around everything that they do. We were recently blessed with their presence in New York, where photographer Christie McMenamin got to hang out and take some portraits of the band, comprised of the phenomenal talent of Jon Doyle, Jamie Kyriakides, Josh Waters Rudge, and Marcia Richards. We got some time to chat as well, which gave us a glimpse into the lives of one of our favorite bands right now! Check out the interview below, and take a listen to the new album and peep their latest video while you're at it!
 What was the first album or song you remember hearing, and do you believe that music has any bearing on how you approach your career?
First music I remember hearing I don't know. First reggae song I ever remember hearing was my parents playing "Iron Lion Zion" when I was like three, which I remember cos I liked lions. First album I bought was the soundtrack of Space Jam on cassette. I don't know if the first music I heard had any bearing on the APPROACH of my career more than "I like music", I was say the music that had that bearing I found about 
12/13 
years old.
What is the origin story of The Skints? Was it a meet-cute?
I don't know what a meet cute is, but we were all just local friends from school. Teenagers form punk band at school, very primitive! We started with the dream of playing our local venue (The Standard, Walthamstow, RIP) and never stopped.
Swimming Lessons. SUCH a wonderful album. So well-rounded, and so laser-focused on a unique and beautiful soundscape adventure. Anyone have a favorite track off that album, or a song you revert back to to make you feel a certain way?
Wow, thanks so much, that's very kind of you. My favourite changes all the time, but today I'm gonna say "Stop Looking Back"; I think it's the most musically mature song we've done.
On "Restless" you vocalize criticism on the government and media. Totally warranted. Was there any piece of you that might have been nervous about releasing a track like this, or was it an obvious inclusion on the album from the get-go?
Nah no way, we've been calling our government, the media, the "system" out on their shit from when we first starting writing songs and that's not going to change.
You have some incredible features on this album. What ignited the conversations to include Protoje, Runkus, and Jesse Royal on tracks, and how did you approach them to work on it? Had you already had those established friendships?
Protoje and Jesse Royal we had met and formed road friendships with those 2 guys with about 5 years ago at festivals in Europe. We'd stayed in touch, always linking up with Protoje to hang when he was in London and playing on a bunch same festival bills around the world, and had been saying to one another "let's do a tune" for ages. We also did a secret support for him in a tiny club in a Parisian suburb once! Jesse came over and played this pop-up Skints party we curated called "Nice Time" a couple years back and we went to the studio the day after and wrote a DIFFERENT song to Love Is The Devil, maybe that will see the light of day some point! So yeah those were totally organic connections, and it was Protoje that put us on to Runkus a few years ago, who was also a fan of ours as we are of him, and we connected off the back of that.
You chose blue vinyl for your recent album release. What inspired that decision?
The album is called Swimming Lessons and we love colour vinyl!
You have been touring the last few years almost non stop. What have been some of your favorite memories of this time on the road?
Man, so many. Japan completely blew all of our minds, I'd say that was the most different place we've ever been. Even down to getting the train as to being on the road, the pace of touring is just different out there.
But also… any crazy fan stories or random happenings on tour that are just too bizarre or funny to not talk about?
Ah man, we been touring for like 10 years haha! We once stayed in a terrifying hostel in Berlin with unfinished paintings on the walls. Portraits with no eyes or mouths. Scary.
You guys seem to get along really well. How have you kept your heads on straight while touring together for such a long time? 
We've spent so much time around each other we actually operate like a family. We just try not to push each other's buttons, communicate honestly and healthily and try to be respectful of one another as we operate. Also gotta just laugh through the madness!
Anything else you'd like to share with us? 
Big up everyone supporting and showing love, it means the very most!
___
Keep up with The Skints here.