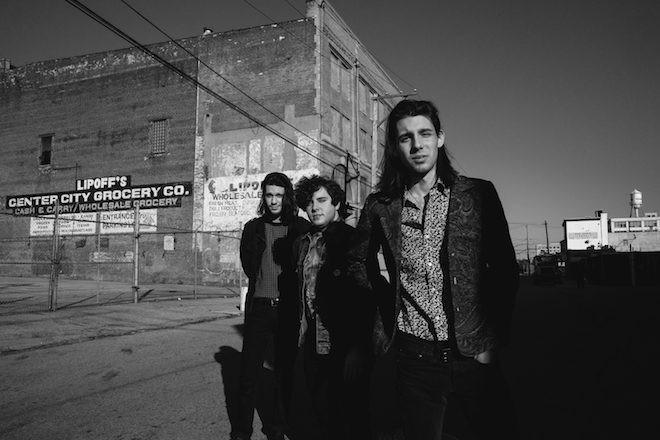 The Rareflowers have defined the beauty in true love and the how we often take it for granted when we feel comfortable. Its only after the fact when they are gone that you realize how it really kicks in the intensity of loss and being alone.  Don't worry guys, with indie sensitive songs like "New Generation" you won't be alone for long.  With a clean, heart on sleeve delivery this band consisting of brothers Jimmy (guitar, vocals)) and Kane Maraday (bass) and Aaron Gollubier (drums) will be releasing their self-titled debut E.P. June 29th, 2018 via Good Eye Records. Formed in 2013 The Rareflowers trio from New Brunswick, NJ, has not 1 but 2 singles released thus far giving us a little insight into what to expect from the E.P. Not to mention plans are already in the works for a full-length album.
"New Generation" is overall a warm sing-along style song that begins rather romantically.
The band commented on the song by saying, " You'll give your best self at the beginning of a relationship. In time, things will change, but never enough to make you forget why you loved that person in the first place." It's a sad and beautiful truth as is the single as it sways in a gentle motion of down picking and up picking of the guitar.
The first single "Shake" is slowly paced but not a dramatic ballad. The chorus is where the tempo picks up and gives a little of a Tom Petty vibe. Semi-folkish with a modern alternative touch. The vocals are soulful in their expression and delivery while the melody is as charming as a prom date in the perfect attire opening the door for his lady. The midsection offers a psychedelic strum before continuing the journey down a desolate path with cries of "Baby."
While the band looks young in pictures they have a very defined and mature sound that makes it seem hard to believe this is their debut. They have captured all the elements needed to get more than just a listen and nod. Subtle verses that tell a story, catchy hooks in the chorus lines that make it stick in your memory and of course that alternative indie appeal. The production value is clear and makes each instrument shine while the vocals have a hall style verb giving it full spectrum surround in the forefront. The honesty in lyric writing and musical integrity will be a surefire with the ladies too.
Once you give it a listen and they win you over you can keep up with them on their Facebook page.