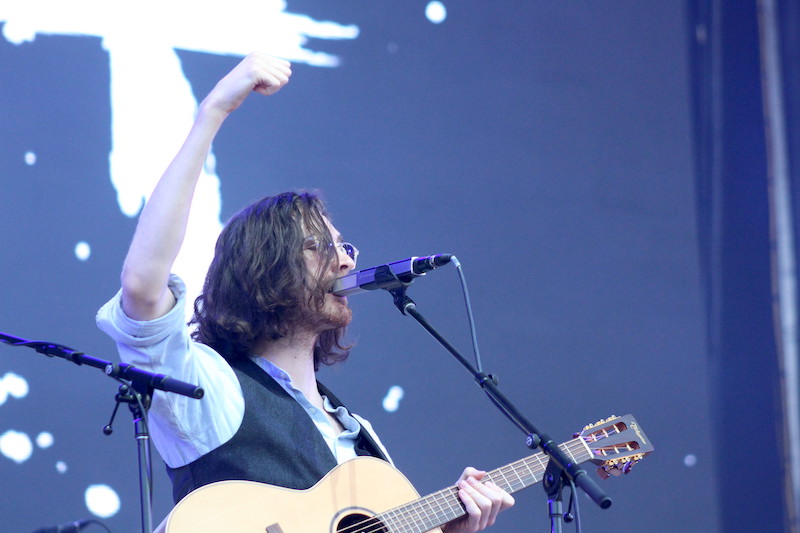 Andrew Hozier-Byrne, better known across the globe simply as Hozier, has been an active participant in the live-stream concert trend that is sweeping the globe. The music industry enigma's most recent endeavor took place on Friday via Billboard Live's facebook page in an effort to raise money for the Downtown Women's Center in LA, which focuses on serving and empowering women experiencing homelessness and formerly homeless women. While in his previous livestreams Hozier has been accompanied by bandmate Alex Ryan, he buckled down in his bedroom by himself for this one due to intensification of the lockdown, joined only by his acoustic guitar. After talking a little about the Women's Center, Hozier jumped into material from his massively successful 2014 self-titled debut, which birthed chart-toppers like "Take Me to Church" and launched him into wide-spread fame.
The Irish musician started off with an acoustic rendition of "To Be Alone", a bluesy rock number off of his first album. Even without the driving electric guitar and hard-hitting percussion of the original track, Hozier kept all of his power with his soulful vocals and guitar-playing. He then invited fans to send in requests, humbly stating that he could "try and God knows that's the best I can do" (Yeah, okay Hozier *insert eye-roll here*) before moving into a soft-spoken version of fan-favorite "From Eden". The beautiful number was accompanied by bright slide-guitar and whispered falsetto brushed across the tops of the airy track's high notes. "Cool." Hozier breezily said before diving into some questions from the stream's viewers.
"What are you some of the ways you've been keeping busy during these times?" He read aloud from the comments and questions streaming in at real time. Hozier took the moment to speak of the effect that the pandemic has had on the live event industry and of his own plans for the year. "I'm very very fortunate that I didn't have touring plans this year. So a lot of musicians and in particular independent musicians, freelancers, anybody involved in event management or gigging…." He trailed off in thought before coming back, restating "I've been very very fortunate". Hozier shared that his plans have not been heavily affected by the pandemic, a fact not all that surprising for a man who's infamous among fans for backing out of the spotlight for years at a time when he's not touring to work on his music without the constant pressure typically forced on artists by labels and the public. He did share what he's been up to though: reading, writing, and walking "at safe distances from other people".
Hozier spoke a little more about the Women's Center and encouraged viewers to donate if they could before cutting off his own thoughts. "And- Yeah. What are we doing? I suppose I'll sing a song" he said with a grin. "That's what I do". He spoke on as he tweaked his guitar. "Today was a sad day, sadder than normal. Bill Withers passed away, who I'm sure you're familiar with, and it's an absolute tragedy". He then spoke of Withers influence on him personally before paying tribute to him with a haunting cover of "Ain't No Sunshine", one of Withers' classics. Not surprisingly, he did the soulful track justice, effortlessly building the intensity with his impassioned playing and singing before pulling back to let the last section breathe. "Isn't that a beautiful song?" He mused.
Hozier followed the heartfelt cover with "Cherry Wine", one of the most beautiful and patient songs from his debut. Seeing that the album version is a live recording with just acoustic guitar as well, his livestream edition sounded eerily similar and was charged with nostalgia for longtime fans. The world stood still for a couple moments as the musician's remarkable ability to make everything feel alright washed over like a wave of cool and calm, serving as a personal reminder that if Hozier told me to jump into a volcano he'd probably ask in such a way that I'd not only oblige but think it was a fantastic idea. Remarkable.
There seems to be a tendency among musicians who had a giant breakout hit like Hozier did with "Take Me to Church" to avoid playing these hits when they don't have to, so I was a bit surprised when he busted out the song that launched him into mainstream popularity back in 2014 to close the set. But Hozier, ever a man of the people (even if he hides from them in the woods for years at a time) brought back the hit for his last song of the night.
"I have not played this song on guitar for um, many moon now, for years I would say". Hozier teased with a coy smile as he tuned his guitar. "There was a time when I'd play it 3 times a day. So hopefully that will sustain in this first time I've played it in years". Hozier thanked his viewers and Billboard before reminding everyone to donate to the Women's center one final time.
Not shockingly, he followed that intro with a perfect rendition of the dark and soulful tune, reminding everyone of why we fell in love with his music in the first place.
"Or something to that effect" Hozier said before signing off and returning to his preferred state of anonymity, presumably "In the Woods Somewhere" (Hah, Hozier puns) where he belongs.
"And wash them hands," Hozier said as he waved his way off the air. Your wish is my command, Hozier.