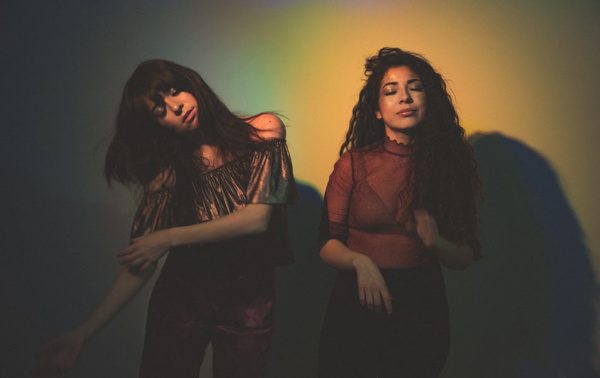 Lolaa, consisting of Toronto-based sisters Lex Valentine & Nadia Valerie King will release a Spanish version of their debut EP on June 8th. The musical project allows the sisters to explore their Mexican heritage, taking inspiration from Latin American 80's pop music. The EP is a soulful approach with Latin-inspired instrumentation. Similar to that of Gloria Estefan minus the pop American influence and hiding the cultural percussion in the background. Lolaa puts them in the forefront and the result is a feel good, twilight, dancing in the streets fiesta.
"Lola" – the song bearing the proper spelling of the band's namesake, meaning "Lady of Sorrows" – sways slowly in a gentle breeze accompanied by impactful and heartfelt vocals. While the verses are sung solo and with minimal instrumentation the chorus is filled out by an overlay of vocals giving it a thicker, meatier, stronger delivery. "Cancion 6" has a passionate vibe and produces a lot of warmth. Taking some influence from a 70's disco ballad with a swaggering groove, intense pre-chorus vocal melody that leads the way for a full-on Pop anthem chorus. I have no clue what they are saying, but I feel the need to sing along. Maybe I will make up my own words. Could be fun.
[youtube https://www.youtube.com/watch?v=Bepmx9t4-CA]
Thus far Lolaa is bringing the synth-pop and danceable rhythms even during the slower paced songs. Embracing all the emotions in life and creating a sound that despite the mood or event, you can dance. "Barricada" demonstrates an almost haunting calling. While the beat boasts a Casio powered hi-hat and a simplistic stock snare kick combination the vocals definitely take the bull by the horns. I think this track could easily be even more dramatic and impactful a cappella aside from the ending with the comforting sound of an old music box. While none of the tracks are high energy they maintain a joggers pace and are in the key of motivation and are cinematically dramatic, the key of each song designed to appeal directly to the heart of your emotions.
Lolaa has a unique sound as you can definitely and obviously pick up on the Latin influence, as these tracks are En Espanol, but the music itself has a fusion of American pop, latin and old-school instruments, Canadian imagination and an immense of amount of passion. Don't let the language barrier stop you from checking them out. You don't need words to express an exact message. Tone and delivery will impact you just the same. A video premiere for the single "Espiritu" has been released via Nylon Espanol to hold you over until the E.P. is released.
Tour Dates
July 12th Coney Island Baby at 8 pm New York, NY
August 4th Handlebar's at 8 pm Toronto, ON
Keep up with Lolaa here.