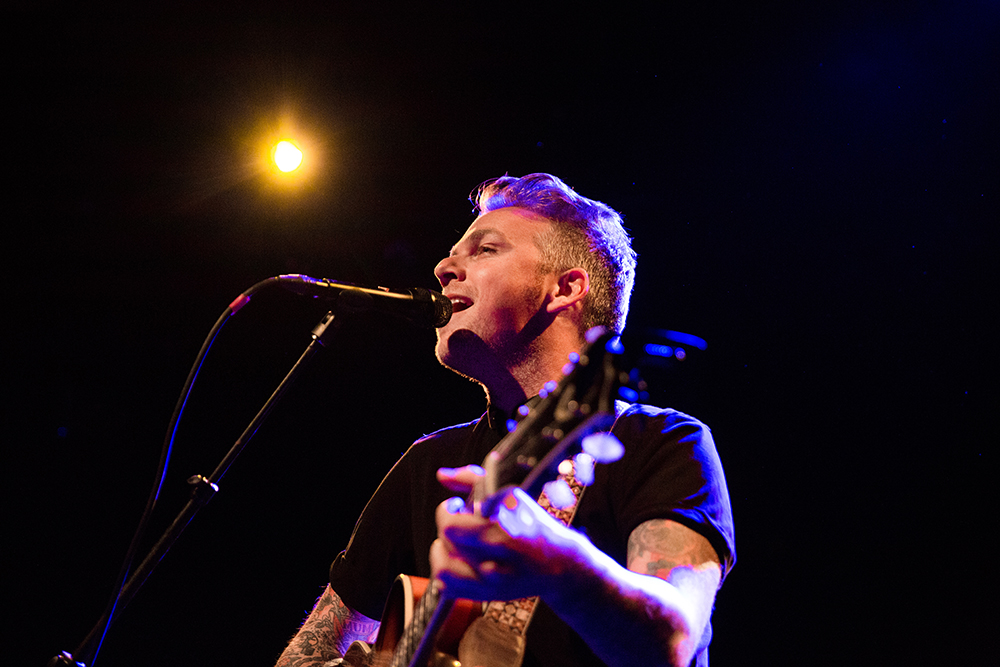 Acclaimed singer/songwriter Greg Holden made his return to New York City on September 23rd. Opening for Butch Walker, who produced his single, "On The Run," Holden's performance was like a homecoming. It's a rare thing for an opener, especially one singularly armed with an acoustic guitar, to hush Irving Plaza from front to back, but Holden managed to wield this uncanny power with effortless ability.
When Holden first emerged from the side of the stage, the crowd's vigorous, impassioned applause was astonishing. He strolled out with an unassuming, quiet confidence and began strumming as the audience quickly fell silent. As his 7-song set kicked off, Holden was oftentimes chatty between songs, lending an affable familiarity with a room of people whom he'd never met, treating them like valued friends. Constantly encouraging the crowd to sing and clap during parts of his songs, Holden's set was interactive, a joint, group effort.
On "Home," Holden issued a command for the audience to stop their feet in time to the beat. In turn, he received an eager assent as the stomps echoed throughout the venue and shook the floor. Holden's newest track, "The Power Shift," was prefaced by a quick lament, noting Donald Trump was currently in the city. The audience loudly booed, prompting Holden to launch into this political song, calling others to recognize the link between power and inequality, and one that was more than well-received in New York City.
"Boys In The Streets," arguably Holden's most moving song, showcases his lyrical prowess, one that is omnipresent throughout his work. Telling the story of a father struggling with his son's sexuality, it's only on his deathbed that he makes a confession: his intolerance was due to what he was taught growing up. He finally understands and encourages his son to be himself. Holden's live performance evoked the pathos and pain of both son and father, and cheers went through the crowd as Holden reached the uplifting conclusion.
Lastly, Holden performed "Hold On Tight," a triumphant, empowering song that bursts into a big, gleeful chorus as he sang an urgent warning: "don't take your life for granted."
It was an awe-inspiring set from a seasoned musician, one who will no doubt be back to New York City in the future.