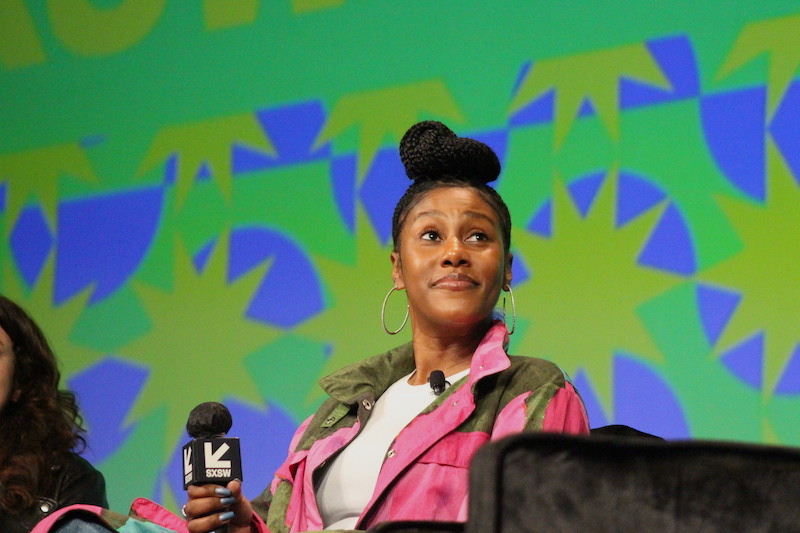 You know that commonly used phrase "Never meet your idols?" Well, it's controversial. It always has been. While your idol's personality may be very different in real life than their perceived persona or stage presence, they will most likely still have inspiration oozing from them. In the way they carry themselves, the people they surround themselves with, and the projects they work on.
Singer-songwriter/producer Linda Perry (4 Non Blondes) has been navigating the music industry landscape for decades now. She has founded two record labels, composed and produced hit songs for a myriad of artists (Pink, Christina Aguilera, Gwen Stefani, Adele, Alicia Keys, Courtney Love, James Blunt), and continues to innovate in the field. And while she probably never would have described what she did as paving the way for women, her work has absolutely been doing that since the day she started in music.
So it was only natural that she sat on a panel of four incredible women to discuss gender gaps in entertainment, and how we can all work to close those gaps and give women more opportunities in music. She was joined on stage by four other indelible women in the industry, Carrie Colliton (Record Store Day), Ericka J Coulter (Warner Records), Tierney Stout (Vans), and moderator Lori Majewski (Sirius XM). All five have an inspiring body of work behind them, and legacies that will stand the test of time. To be in their presence alone? Absolutely intoxicating.
Then the stats rolled in on gender gaps and representation. Only 21% of musicians are women, only 12.6% of songwriters are women and only 2.6% of producers are women. Seeing that women are so poorly represented in the industry isn't a shock, but those numbers are insanely low. Especially for the number of women who begin their careers in supporting roles throughout the industry, and are then pigeonholed into more administrative or side careers.
One of the biggest issues facing women's approach to the industry? "You have to see it to be it," explained Lori Majewski. You can always have ideas about what a career in your field could look like, but unless you can see other people like you taking the reigns and paving the way for others, it can be a difficult thing to grasp. Women in the industry provide beacons of light for others and are also incredibly well-formed mentors in some cases.
"I showed up big," admits Perry, who has always held a makeshift torch in every space she has occupied. "I'm not the kind of girl the guys go after, so I've never had that problem. But I remember a couple of very big producers who would undermine my skills because of how I showed up. I was considered difficult through the whole process of the [4 Non Blondes] record. I read a similar story about Axl Rose. He was considered a leader."
And she's not wrong. Often, women who take a strong stance in their career are considered difficult to deal with and widely vilified, while men are considered strong and capable with the same attitudes and dispositions. This is across all fields, with biases affecting multiple aspects of the career climb.
Carrie Colliton co-founded Record Store Day – a vinyl renaissance that gets all generations involved with their local record shops on a yearly basis – which is celebrating its 15th year. She also runs all of the social media year-round, which increases leading up to the event. She admitted she has to restrict comments on posts with female artists, black artists, and children. This is because of the subject matters that often come about in the comments section. People on the internet are very likely to say sexually harassing things about photos of women, be racist in comments, and even say some pretty messed up things about children. Unfortunately, she found it to be a pattern so she had to take restrictive measures to keep the offensive comments low.
Besides protecting marginalized groups in the feed, Carrie has helped to spearhead initiatives that create a safer space for those communities. To increase visibility for underrepresented groups in the industry, this year, Record Store Day chose to implement a list of female-run record stores, and give each participating shop the autonomy to choose how they identify themselves to the public.
Record Store Day and Vans have partnered numerous times on collaborative efforts like special vinyl releases. This year, they released an album featuring groundbreaking female artists that benefits women-owned and operated independent record stores. They also hosted a list of black-owned record stores to ponder when choosing where to make those special yearly purchases.
The key to closing the gender gaps that currently exist? Collaboration over competition. "[Often there are] so few women in the room [that] they're competing with each other," admits Tierney, a fact everyone nodded in agreement with.
"Women are always going to work harder," explained Perry. "It's not a surprise it's not a shock. It's not even a complaint. We on this stage are always going to work harder for those who can't right now so we can provide a safer space for all women in all creative and entertainment."
Echoed Erica J Coulter: "When I stuck to my plan I took every step to get there. It's not going to be easy but you can get there, you can get into this door."
Find out how to get involved and continue to push the envelope for women the world around at wearemovingtheneedle.org.
**Also, we met Linda Perry. Case in point: Meet your idols.