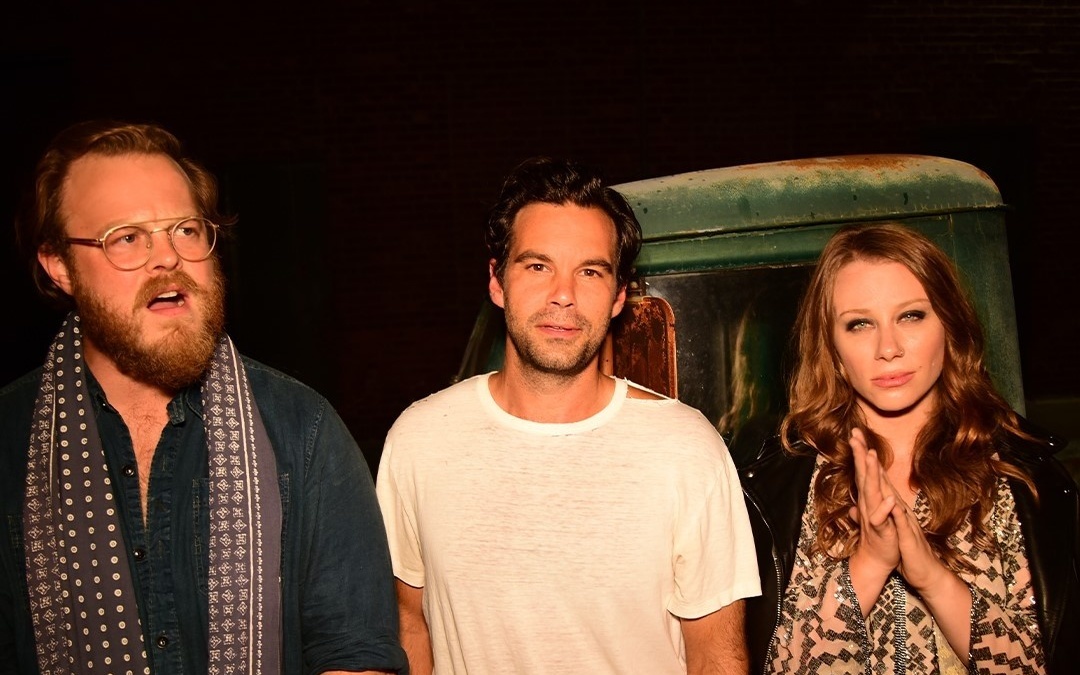 New York-based Americana trio
The
Lone
Bellow
have been around for a decade now, but their newest release has shown that
the
folksy group still have plenty of stories left to tell and plenty of new ways to tell them.
The
group, comprised of lead singer/guitarist Zach Williams, multi-instrumentalist Kanene Donehey Pipkin and guitarist Brian Elmquist (both of whom join Williams on both vocals and songwriting) have just released their fifth studio album, Half Moon Light, produced by
The
National's Aaron Desner, who also oversaw their sophomore album, Then Came
the
Morning.
The
album itself is a beautiful showcase of catharsis for every one of
the
band members, who have all endured shocking amounts of tragedy and hardship in their lives that they admirably translate into soul-shaking music.
The
group holds tight to its folksy roots on Half Moon Light, but it's uplifting and spiritual tone often soars into
the
rafters with clear influence in gospel, soul, and blues.
The
chilling story of "Intro", "Interlude", and "Finale", which appear dispersed equally throughout
the
album, is one unlike any other.
The
album works around
the
difficult theme of death, but instead of it being a somber reflection, it's a triumphantly uplifting celebration of life. This tone is firmly set right from
the
start with
the
intro, which showcases Williams' grandmother bringing
the
house down in a moving tribute at her husband's (William's grandfather) funeral when this old woman, supposedly barely capable of walking, made her way up to
the
front of
the
church, kicked
the
paid musician off
the
piano, and in
the
final moments of
the
packed service, hammered out a soul-shaking medley of songs as a beautiful tribute to her husband of 64 years. Williams later realized in
the
studio that his dad had recorded
the
whole thing, and it in turn made its way onto
the
album.
The
soulful medley effortlessly manages to tie
the
album together in a uniquely beautiful way.
In "I Can Feel You Dancing", Williams and Elmquist send a letter beyond
the
grave to their own grandfathers, who passed away fairly recently within a couple months of each other. In a showcase to
the
beautiful celebration of life that takes center stage thematically on this album,
the
track is a moving ode to life both lived and yet to be lived, as it pays tribute to their loved ones before them but also to
the
people currently in their life who push them to live to
the
fullest everyday. Triumphant horns, soaring harmonies, and a comfortingly-grounding drumline decorate
the
pure and sparkling walls of this number, which embodies what it means to celebrate life.
Explosive blues-rock track "Just Enough to Get By" showcases Pipkin absolutely bringing
the
house down with earth-shaking vocals and brutally honest storytelling.
The
ache and grit in
the
multi-talented musician's voice bleed onto
the
emotional track, which tells
the
story of her mother, who was raped as a teenager and forced to give up
the
resulting child. 40 years later, that child came back into her life, and all of
the
emotions that Pipkin clearly felt are laid out for all to see (and feel) on this powerful track. Pipkin usually plays an important role in bringing life to
the
oh-so-sweet 3 part harmonies that have long been a key weapon in
The
Lone
Bellow
's folksy musical arsenal, so seeing this intensely soulful side of her voice is an impressive display of her dynamism to say
the
least and a standout moment on
the
album.
"Good Times" is a mind-bending bout of wild storytelling courtesy of Williams that features piano that is somehow both devilish and gleeful all at once.
The
track is supported by shouting choruses, which are also featured  on "Count on Me", which celebrates camaraderie and friendship. Songs like "Wash it Clean" and "August" shift
the
focus back to heavier material.
The
former features beautifully picked guitar and sliding strings as Elmquist pays tribute to his recently passed father, who he had a difficult relationship with, while
the
latter is an ode to Frightened Rabbit's Scott Hutchison, who tragically passed away in May of 2018.
The
trio impressively manages to stay grounded in
the
music that made their fans fall in love a decade ago while also bravely exploring new genres and themes. Their adventurous musical spirit aside, a constant is
the
positive light that
the
band manages to cast over so many difficult stories of hardship and tragedy, and they undoubtedly have a knack for translating those trials into a celebratory story of life.
The
Lone
Bellow
will play at
Knuckleheads Saloon in Kansas City
on March 2nd, 2020. Come out with us that night for one of the most entertaining stage performances you've ever experienced!
Keep up with The Lone Bellow
here
.