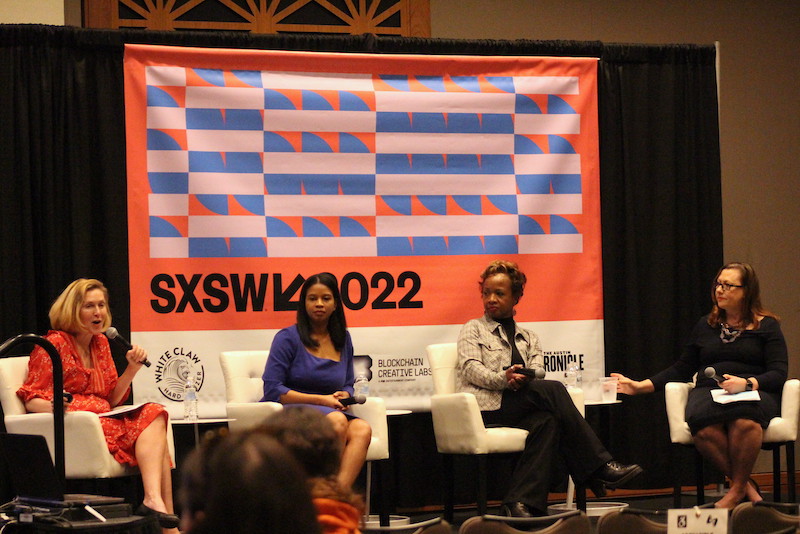 On our second full day experiencing SXSW 2022, we wandered into the JW Marriott to check out what was going on shortly after getting our hair done at the JVN pop-up. "What the She-Cession Will Teach Us About Hiring" was listed on the board, a panel starting in mere minutes upstairs. So, we meandered up the escalator and got our seats. (After a brief stop to the Indeed Lounge for an iced latte and hot cocoa, of course.) The panel was led by Jessica Jensen, the CMO at Indeed, and included Mandy Price (CEO, Co-Founder of Kanarys, Inc.), Janet Gipson (VP of Talent Acquisition for Global Medical Response), and Jennifer Tracy (VP of Talent Acquisition at Spectrum).
So, we were in the presence of greatness. Incredible women in C-Suite positions doing good things in the hiring world.
And then the stats hit.
90% of the 50 million people who left the workforce permanently during the pandemic? Women.
70% of women who reduced hours or left jobs during the pandemic in the US did so because of a lack of support in the workplace.
89% of these women admitted that their male partners weren't as negatively affected.
The numbers are absolutely devastating. Women – who are often relied on for extra work throughout their lives – were stretched thin when things took a turn for the worse two years ago. After all, who was widely expected to make sure kids in the household were logging into Zoom for schooling and keeping them entertained while they were trapped inside? Who is always encouraged to keep a tidy home, cook, and possibly even have a full-time job to financially support a family or any dependents? Plus, women are often tapped to be caretakers/caregivers when family and friends become less capable of handling their own things. The pandemic brought that into even harsher light than ever before. And women aren't, truly, asking for that much from their employers. The panelists went on to outline common needs women seek from their place of work:
Pay
Happiness and a sense of belonging
Flexibility to make work and life
Caring managers
Luckily, the massive change in workforce dynamic during the pandemic led to a few realizations by companies across the United States. "Organizations became more thoughtful as to when they scheduled meetings – are they scheduled during the day or during the times childcare would be more problematic," elaborated Mandy Price. "We also saw organizations realize that, just because you weren't on camera, didn't mean you weren't working." 
"We have to collect the data and see who is exiting the workforce, what is their profile and how can we support them," encouraged Janet Gipson. "Starting at the top, women are exiting faster and leaving for more flexible work and lucrative pay (travel nurses, for example). Moving down the tree, women of color are leaving even more." In fact, examining intersectional dynamics has been key in a lot of their upward movement over the past few years. And it needs to be a practice that more companies – especially at a corporate level – employ and expand on.
As for changes within their respective companies? "When we look at the ability to change healthcare, our company is innovating in how we deliver healthcare," Janet said. "We've partnered with Mobile Health and are delivering paramedics, EMT's and the like to homes of patients. People do not have the dollars or reimbursements for 4 or 5 days post-surgery. We deploy health care professionals to take vitals, check-in on patients, etc. This has allowed a couple of things – The pay is more competitive. The other thing is the flexibility. The data, along with changing how we schedule and do work are key to keeping and retaining the women in the work force."
Which, by the way, isn't always as easy as it seems. Many jobs require physically demanding work that women aren't historically linked to. However, many women are more than capable nowadays to tackle heavy lifting and challenging physical roles. But that doesn't mean they're being considered in the same ways men are. Explains Jennifer of Spectrum's current hiring process and capabilities, "65% men, 35% women. 86% of hiring is frontline. Some roles have historic physical barriers. 80+ pound ladders. We have a tool on our site called 'Fit Finder' – a candidate can take this and it allows them to be served jobs based on their personality. Launched two years in the past, we have seen gender representation in those frontline roles has increased, simply because we have made the suggestion that women may be a good fit for this role." 
In addition to software updates and more open-minded hiring practices, Spectrum has brought their 80lb ladders down to 50lb ladders, a feat that benefits people of every gender and helps relieve pressure and unnecessary tension as we all age.
Jennifer, perhaps, made the most poignant statement on how to move forward in the hiring process to retain talent that will stick with you, and reduce turnover and disappointed employees. "Working to remove education requirements and focusing on skills and abilities. Working to expunge criminal records. Proactively retain your talent, not just acquisition."
___
I found the Indeed Lounge to be an especially absorbing stop in my day. It seemed to be much more tailored to the whole person, rather than just the resume of a person. The Share Your Salary to Support Equal Pay was fascinating – people were encouraged to write their job titles, location, and salary on a card to post for all other participants to see. In this way, salary is not a closely held secret, but rather knowledge to help in your own negotiations.
Indeed had headshot photographers, coffee, appointments with a career coach, and tarot readers. Yes, tarot readers, which make all the sense in the world in a job search. It is important to identify your own possible strengths and fears and tarot is the perfect vehicle for this understanding.