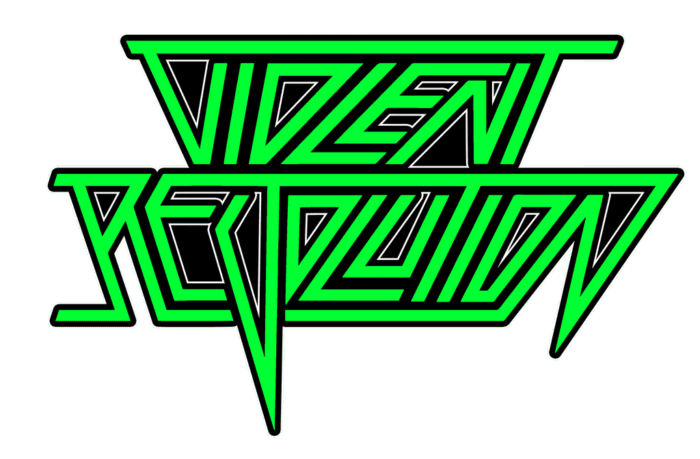 I had the opportunity to chat with Matt from Violent Revolution, a metal band based out of Phoenix, Arizona. While I am a little biased having liked a band he was in locally around 2001, I find it more inspiring to be able to pick the brain of a musician I respect. Matt is well known in this area. A scene veteran if you will. With Violent Revolution he has teamed up with some other tight players and together they have unleashed a brand of metal that not only has listeners asking "how did they do that" but keeps the mosh pit rotating like a ceiling fan.
Your name and role in the band?
Matt Ward, Lead Guitar and Vocals
What motivated you to play/create music?
Honestly, a big part of it was growing up kinda poor. My friends and I never had money to do pretty much anything so in my juvenile brain I thought shooting for the occupation of "Rock Star" would bring some cash and travel into my life… oops. Not quite the case. But also there are allot of musicians in my family and it seems to just be genetic. My Grandad was a guitar player who worked in Vaudeville and taught guitar and even worked with Les Paul for a time. Sadly he died before I could meet him so I've always kinda wanted to pay tribute to his memory. That and Jimmy Page.
Who are your influences?
That answer changes every few years it seems. Early days it was Zeppelin, AC/DC, Iron Maiden… Twisted Sister was actually my first favorite rock band and they brought me into the whole cosmos of metal. Over the years I have been influenced by so many things a competent list would be all but impossible. But lately I am very into Meshuggah, Aesop Rock, Opeth, Maximum the Hormone, Belphegor… and of course… a constant stream of Tom Waits flowing! He's my god!
Describe the sound of Violent Revolution for a new listener.
That would depend on whether you hear the new stuff or the old stuff. Our Debut disc "State of Unrest" is pretty straight up Thrash/Punk kind of stuff. There has been some line up changes since then and nowadays we are quite a bit more adventurous. Imagine Nuclear Assault meets Lamb of God and The Haunted… maybe… this question I always suck at haha.
What sets Violent Revolution apart?
Another hard question to answer. I guess that may ride in the hands of the listener. It's hard to be objective about that answer from the inside. I don't wanna sound braggadocious or off base.
What is the story behind the name Violent Revolution?
It's from a Kreator song. That's really the whole story haha. Nothing too deep behind it. Just fit music that is fast and angry and somewhat politically charged. 
What is the most rewarding aspect of being in Violent Revolution?
I think as of now the most rewarding thing is the new line up. We are just in a good groove with each other and the writing is flying. We all get along and we all keep each other on our toes but most importantly we all agree on pretty much everything. No bitching and moaning at each other EVER! If anyone complains it's always me but never about them haha. It's just actually fun playing in this band. I have been in plenty that were very far from fun.
What's next for Violent Revolution?
We are shooting for finishing up all the new writing that is underway and then getting an EP together so we can get this stuff out to everyone. I don't think enough people have had a chance to check out the new direction. Plus we have a ton of merch to make! It's gonna be a busy spring for us. But we will be coming out swinging by summer. It seems as though we are on track for a really good year! Let's hope that is the case.
___
Keep up with the band here!