On the Eve of BeyDay in Kansas City, MisterWives and Bishop Briggs brought the girl power to one of the most iconic stages in the city with The Don't Look Down Tour. Tucked away into The Crossroads District sits Grinders KC, a mulch-floored, sunset ceiling-ed venue that is perfect this time of year. Misterwives headlined, regaling the crowd with some of our nostalgic favorites peppered in among their latest, admittedly more introspective, releases. Their stage performance of "SUPERBLOOM" was the most magical moment of the show for me, as we all gazed up in appreciation at an almost-full moon over the stage.
MisterWives' music reminds us to get in touch with who we really are. Vocalist Mandy Lee endlessly captivates with her ethereal vocals and enigmatic energy. The chemistry between Etienne Bowler (drums), William Hehir (bass), Mike Murphy (sax/keys), and Marc Campbell (guitar) is really fun to watch, as they dance around each other and stay in communication throughout the show.
The band has been through some growing pains in recent years, effectively losing their keyboardist Jesse Blum, experiencing relationship woes between band members, and label drama. But that hasn't stopped them yet, and those facts show no signs of slowing them down. MisterWives – now more than ever – present as a force to be reckoned with. I can't wait to watch their magic continue to expand minds for many years to come.
Setlist
Out of Your Mind
Dagger
Where Do We Go From Here? / rock bottom
All the Same
Why Why Why
Sideways
Trip Around The Sun
Silver Lining
Trigger Pull
Too Late
Ultraviolet
SUPERBLOOM
Our Own House
Reflections
Other Side
End of My Rope
Nosebleeds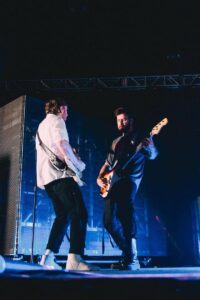 If you happened to leave the show without a smile on your face, I can only assume you are battling some horrendously painful ailment at the moment, and for that, I give you space.

Latest posts by Meredith Schneider
(see all)