Loveless invites us into a mesmerizing realm of music where genres blend and emotions soar. With harmonies that tug at heartstrings and lyrics that paint vivid stories, Loveless is a captivating musical journey we cannot miss.
"Drag Me Down," Loveless's latest single, takes us on a rollercoaster ride of aspirations and self-discovery, all set to a catchy and upbeat melody. Picture this: a wannabe movie star trying to strut their stuff, hoping to be the next big thing on the silver screen. They're dreaming big, just like the heroes who always save the day, but they're also facing some unexpected plot twists.
As the song plays on, our protagonist starts to realize that being a hero isn't all it's cracked up to be. The chorus shouts out "Drag me down with you," a battle cry against those pesky challenges that try to spoil the fun. It's like they're saying, "Hey, I won't let life rain on my parade!"
And just when you think things are settling down, the song throws a curveball with lines like "The fear of dying alone / Doesn't hurt half as much / As the feeling of letting it go / After one last touch." It's a mix of deep thoughts and lively beats, keeping us grooving while pondering life's twists and turns.
So, kick back, imagine yourself in a movie montage, and let "Drag Me Down" be your anthem of resilience and the pursuit of dreams, all wrapped up in a toe-tapping, head-bobbing package.
LOVELESS WORLD TOUR DATES
8/17 Sydney, AUS Metro Theatre
8/18 Brisbane, AUS Triffid
8/20 Melbourne, Aus 170 Russell
9/16 Paris, FR Trabendo
9/18 Amsterdam, NL Melkweg OZ – SOLD OUT
9/20 Berlin, DE Columbia Theater – UPGRADED
9/21 Hamburg, DE Reeperbahn Festival
9/23 Brussels, BE AB Club – SOLD OUT
9/25 Cardiff, UK Tramshed – UPGRADED
9/26 London, UK Electric Ballroom
9/29 Birmingham, UK O2 Institute 2 – SOLD OUT
9/30 Manchester, UK Academy 2 – UPGRADED & SOLD OUT
10/1 Glasgow, UK Garage – UPGRADED
10/3 Dublin, IE Academy Green Room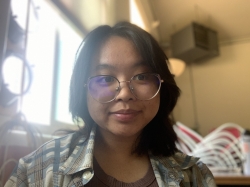 Latest posts by Hillary Tran
(see all)