In Jean Ryden's music video for her song "Parallel Universe", Jean desperately wants the trauma of losing her parents to have never occurred. In the beginning of the song, she replays images of her parents in her mind in black and white, because her past is like an old movie; the happy moments with her parents are covered with feelings of dread. All the color has been depleted from her memories because new movies are symbolic of new, happy memories with her parents being formed. In comparison, the old movies symbolize her happy memories as only in the past
Jean lays in her bed and leans her head to the side, which reflects when she would lean on her parents for support. She is alone in the bed because after her parents passed away, she felt alone and like she had nobody to lean on for support. The camera zooms in on a close-up image of her eyes while she lays in her bed because her eyes are her pathway to all of the loneliness she feels inside.
Color film of a garden with beautiful roses of different shades and a white bird flying above it is representative of her healing from her grief and finding peace. To elaborate, the bird symbolizes her flying because she is freeing herself from the black and white space of her grief.
Images lasting for a few seconds, all of her memories can never be remembered in complete detail, but the most important details remain engraved. The colored images represent her purely happy memories, the black and white images are symbolic of her memories remembered in sadness or trigger her grief, and the partially colored images are memories she is remembering to heal from her grief and sadness.
The same image of her alone, opening and closing her eyes, leaning her head against a wall, in a vacant room, occurring for a few seconds, repeatedly, shows her constant despair. She shuts off all of her memories with or of her parents because she goes into a state of depression, which she is constantly battling to escape from. 
The video ends with her sitting in a dark room with candles and a black sky lit with bright stars. Images are played in quick seconds against Jean's soft, melodic voice, which has a deeply sad tone on its edges along with hints of desperation. Her voice also has another tone, that feels like she is going through feelings of clarity. 
Once she repeats her memories filled with many different emotions, she must admit that the reality is her parents are in heaven. Therefore, her memories are a "parallel universe."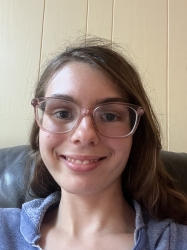 Latest posts by Rachael Weiser
(see all)