As the video begins for "Cigale Song" by Oracle Sisters, two earphone wires are depicted, stretched out to the ear of a girl with blond hair. One is connected to the ear of a girl with brown hair, at a long, wooden table. They are surrounded by fellow musicians holding guitars, and interacting in a friendly manner, dancing in vintage dresses and suites. They create an existence of sharing small moments over their interest in rock music.
On stage, the singer bounces her legs in rhythmic motions, in her green pants, under the green and blue changing lights. As the video continues, red and orange lights shine over the singers dressed in vintage pink and white dresses. These two stand behind the singer in the green pants. This alludes to how in life, people who are similar stay together in similar circumstances, while those who stand out, often dance to the beat of their own drum.
Concurrently, the singer at the front wears pants, because as people find themselves, they come to realize that how they move and what they wear shapes how people who do not know them well view them. The people watching the performers on stage represent those who do not know them well judging them.
The girl wearing the green pants is reflective of someone who is unafraid to be unique and stand out from the crowd. The two behind her, wearing the same dresses, are reflective of people who feel they must lean on one another while being judged.
The girl wearing the green pants dances when nobody else on stage will. This makes her centerstage and amplifies her presence as the soul of the message of the music; it takes time to find yourself but over time, you do. Once you find yourself, she articulates through dancing alone, you become a leader.
As she takes the lead, the two other girls start dancing in their own unique style, holding their dresses and dancing in small movements. The girl in the green pants dances across the stage with her arms swinging in circular motions. Her presence fills the entire stage. This dominance on stage further represents her as a leader who the other people on stage admire.
Closeup footage captures every person onstage, in front of the audience. "Cigale Song" sends the message that it takes time to find yourself but once you do, you are unafraid to show the world that you can strive while being comfortable in your element.
Oracle Sisters Live Dates 2023
29 July – 17 Degrees Ribeira Sacra Festival, Lugo (ES)
19 Aug – Esférica Rioja Alavesa, Guardia (ES)
01 Sep – Into The Great Wide Open, Vlieland (NL)
02 Sep – End Of The Road Festival, Salisbury (UK)
North America Headline Tour:
13 Sep – Bar Le Ritz, Montreal, QC
14 Sep – Garrison, Toronto, ON
16 Sep – The Funhouse at Mr. Smalls, Millvale, PA
17 Sep – DC9, Washington, DC
19 Sep – Bowery Ballroom, New York, NY
22 Sep – Turf Club, St. Paul, MN
23 Sep – Schubas, Chicago, IL
25 Sep – Sunset Tavern, Seattle, WA
26 Sep – The Jack London Revue, Portland, OR
28 Sep – Popscene/Rickshaw Stop, San Francisco, CA
29 Sep – The Roxy Theatre, Los Angeles, CA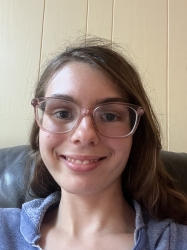 Latest posts by Rachael Weiser
(see all)