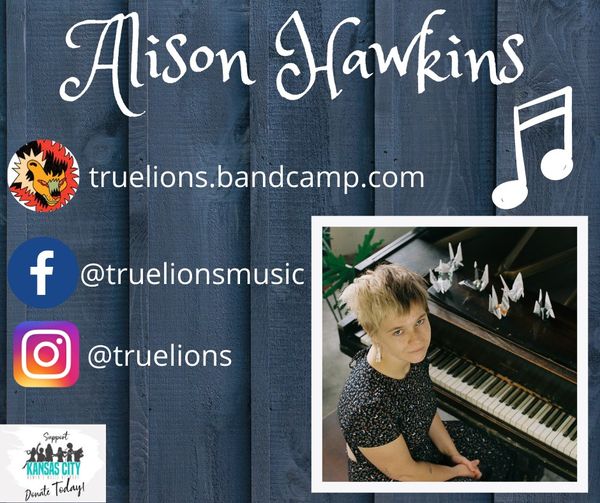 As much as we love covering music on an international scale, we see the value in (and need for) local artist spotlights. Since Imperfect Fifth is based in Kansas City, we have teamed up with the Kansas City Women's Music Network to bring you artist highlights about twice per month. Our Member Spotlight today is Alison Hawkins of True Lions!
About Alison:
Alison Hawkins is a writer, composer, multi-instrumentalist, and music teacher. They are an organizer for Bandwaggn KC, a music camp for girls/trans/gender-expansive youth in Kansas City. Alison dropped out of music school and dedicated their life to intersectional activism. In 2018, they created the keytar pop band True Lions, releasing two EPs in 2019 and a full-length album in 2021.
A Kansas City-based "flosspunk" alt-pop supergroup led by Alison Hawkins, True Lions meshes the band members' backgrounds in classical, punk, jazz, folk, and blues, ultimately creating a well-rounded, unique pop sound. The band's revolving lineup includes Elizabeth Kosko, Teri Quinn, Claire Adams, Adee Rocket Dancy, Aryana Nemati, KuJo, Iona DeWalt, and Miki P. While they're a gender-diverse collective of women/nonbinary/trans/boi/vegan multi-instrumentalists and genre-flirts, the focus of this project is not their genders or dietary restrictions, but rather, their attitudes, imaginations, and the group's inspiring ability to empower and celebrate one another through the refuge they create within their music. They emphasize friendships with bandmates over conventional instrumentation, and prioritize character and integrity over musical perfectionism. Combining flossy harmonies, clever metaphors, and solid hooks, True Lions confronts serious subject matter with a light and often silly approach. They maintain an anti-patriarchal agenda while still having a fun party time, calling it "carbonated honesty." They're known for collaborations with artists such as Calvin Arsenia, Fritz Hutchison, and The Swallowtails, and cite influences like Cibo Matto, The Go-Go's, Sleater-Kinney, The Raincoats, and Fanny. Their debut album, The Fempire Strikes Back, releases April 9, 2021 via Manor Records.
Check out True Lion's YouTube, Bandcamp, Facebook, or Instagram.
If you are interested in being featured on the Member Spotlight check out the KCWMN website.