Xadi's "Black Rock" EP is a captivating musical journey that delves into dark ambiance, effortlessly blending catchy and chill elements. With its personal anecdotes and explorations of drug usage, Xadi weaves a tapestry of experiences that transcends racial boundaries, touching the hearts of listeners from all walks of life.
The EP's main track, aptly titled "Black Rock," stands out as a powerful statement that challenges preconceived notions about the relationship between music and race. The quote, "I didn't know that music had a [sic] colour," encapsulates the essence of this song and its overarching message. Xadi's ability to create a sonic landscape that resonates with anyone and everyone, irrespective of their racial background, is truly remarkable.
The EP opens with a dark and haunting aura that immediately sets the tone for the introspective journey ahead. The production values are top-notch, showcasing Xadi's skill in creating atmospheric soundscapes that immerse the listener. The combination of electronic elements, ethereal vocals, and carefully crafted beats creates a hypnotic experience that draws you in from the very first note.
One of the EP's greatest strengths lies in its catchiness. Despite exploring deep and personal themes, Xadi manages to infuse the tracks with memorable hooks and melodies that stick with you long after the music ends. This balance between introspection and accessibility is a testament to Xadi's artistry and ability to create music that can be enjoyed by a wide range of listeners.
"Black Rock" is also an EP filled with personal anecdotes and adventures. Xadi's storytelling ability shines through as he shares his experiences with drug addiction, painting vivid pictures of struggle, redemption, and personal growth. The lyrics are thought-provoking and introspective, inviting listeners to reflect on their own lives and experiences.
As a black British music artist, Xadi brings a unique perspective to his music. While the EP addresses themes that are deeply rooted in his personal journey, the emotions and messages conveyed have a universal appeal. Xadi's artistry transcends racial boundaries, touching upon shared human experiences that resonate with anyone willing to listen and empathize.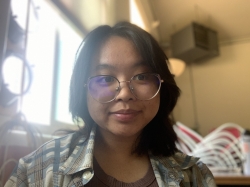 Latest posts by Hillary Tran
(see all)