Nashville's indie pop scene songsmith Jessica Ott, who performs as Whoa Dakota just released the music video for her single "Baggage". The song is all about establishing self-respect through vulnerability in a relationship. Her influence and purpose of this song comes from her realization of how many times in relationships, both romantic and otherwise, she had traditionally abandoned herself in order to make the other person more comfortable. Being completely open and honest with your partner can sometimes seem like the more difficult option. All too many of us might relate with the idea of making sure our partner is more taken care of than ourselves in a relationship. She focuses on changing these behaviors as she sings: "Is it cool if I set my baggage down / 'Cause I think you like havin' me around / You recognize you don't know where I've been / But you're down to help me change the shape of it."
Says Whoa Dakota of the track:
Allowing space in the allyship of feminism for the evolved man. Those men that recognize they will never fully understand what we as women have been through, but who make themselves available to listen and champion the women that they date, marry, work with, or are in friendship with – as well as women they may never encounter.
In the music video, Ott and partner Collin Gundry play a married couple who, to all outward appearances, are your perfect 50's suburban template. Directed by Samantha Zaruba, the metaphor for vulnerability in relationships is played out by a housewife's murdery secret and accidentally getting caught in the act. You'll have to watch the video yourself to find out the fate of this relationship, and whether or not her baggage is too heavy. The spoofy macabre details of the video are contrasted by the gorgeous set designs featuring all the chic 50's props and costumes. You can pre-save the track on your favorite streaming service, and follow Whoa Dakota on Instagram, Twitter and Facebook for updates.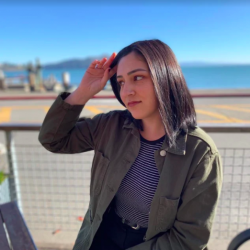 Latest posts by Sadie Battle
(see all)