A new music video for the single, "Something to Believe In" premiered October 30 via Broken 8 Records. With animation by Fuel Heart Productions, the video brings us a visual representation of singer-songwriter Vanessa Silberman's latest track. From "road warrior" (Ijpr.org) to "super electrified performer" (GUM), Silberman has already earned herself a number of titles that express her unique sound and artistic persona.  
The video illustrates Silberman as a figure sketch embarking on a journey, walking through a variety of different landscapes and destinations. Though a simple concept, the figure's walk enhances the song with each step. The character's footsteps beat to a specific rhythm, and in a way, this rhythm perfectly complements that of the song itself. This creates an almost hypnotic effect, inducing a meditative state, which is magnified by Silberman's mysterious vocals. It almost feels as though Silberman is personally calling upon us; encouraging us to wake up, pay attention and allow her to lead us through this moment as we walk through life together.
"Something to Believe In", released on September 30, is Silberman's 7th single to come out this year. The Brooklyn native sports an alt-grunge edge, and is no newbie to the music scene. Between 2015 – 2019, the artist brought her polished, soft-punk vibe to 19 different tours and over 800 shows across the U.S. Like most of her music, "Something to Believe In" was impressively self-produced, engineered, performed, mixed and mastered, with input and drum consulting from Ryan Carnes.
Silberman touches on the inspiration behind her song: "Something to Believe In' is more about capturing the emotion of moody melodies and mysterious feelings than being so direct. Lyrically it touches on finding light in dark places and changing perspectives."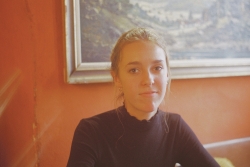 Latest posts by Sabrina Thurber
(see all)