Introducing Valley, the Canadian indie-pop sensation that has captured hearts worldwide with its infectious melodies and heartfelt lyrics. Now, they are back with their highly anticipated album Lost in Translation, a sonic journey that explores the complexities of love, self-discovery, and the universal quest for meaning. With their signature blend of shimmering synth-pop, lush harmonies, and introspective songwriting, Valley delivers an enchanting and relatable experience that transcends borders and speaks to the soul. 
One of the songs in Lost in Translation — "Natrual" — comes with its own music video that delves into themes of healing and natural bonds between different souls. 
The music video opens with an individual walking into some sort of a rustic, classically American bar, wearing what looks to be clean and sunflower-y but otherwise dull clothing. He doesn't seem to belong, compared to the several groups of conversationalists and dart-throwers. Quick to change, he leaves from a changing area, donning a metallic top and unquestionably less stiff pants. And he comes back sporting top-tier energy. 
It's not so much the outfit as rocking dance moves, this man has had a real confidence boost and he's not afraid to light up the atmosphere. Most noticeably, the lighting is sunset-ethereal-like, but the majority of the space is enveloped in shadows. Somehow, I believe that the lighting represents the divide between the beautiful light, the facade we put on for the world, versus the shadows, our own dark inner worlds.
There is a mirror, and the man is standing in front of it. He is alone when he wears his original attire, but when he wears his party outfit, others surround him, highlighting that his change comes in tandem with company. And of course, he is much happier. The cameras pan to him taking over the dance floor without a hint of his previous self. The transformation is remarkable as he moves with newfound confidence and uninhibited joy.
The pulsating beats of Valley's Lost in Translation provide the perfect soundtrack to this moment, amplifying the euphoria and capturing the essence of the album's theme – the power of music to transcend barriers and transform lives. As the crowd joins him, their collective energy ignites, and for that fleeting moment, they are all lost in the music, lost in the magic, and united by the universal language that Valley so effortlessly captures.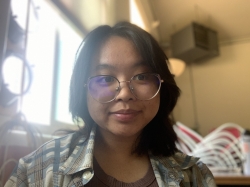 Latest posts by Hillary Tran
(see all)