Zach Gerzon of Twin Bridges is an up-and-coming songwriter and self-taught cellist, breaking into the music scene with a distinct mix of folk and instrumental chamber genres. The project's latest single, "Carbon & Dust", puts instrumental chamber music through an indie filter, mixing traditional orchestral instruments with wistful vocals. Durnis Markov's animated music video is as heart-wrenching as it is breathtaking, providing context for the song as well as eye candy visuals.
While self-teaching, Gerzon experimented on his cello, incorporating playing it on its side like a guitar and using a looping pedal. He brings this experience into "Carbon & Dust", incorporating a plucked cello motif as the crux of the piece. Its ambling tempo resembles how the characters in the music video lumber through a forest aimlessly. The music video's description elaborates that the song "explores a conversation with a loved one who has passed… Slipping between a dream and reality, the lines get blurred from reality, the afterlife and reliving trauma / tragedy."
Along with cello and vocals, "Carbon & Dust" includes a trumpet, bass clarinet, bassoon, clarinet, and saxophone, creating a mini symphony. Each drastic change in instrumentation accompanies the events in the video. When a car crashes in a head-on collision—recalling the moment the mourned person passed in this tragic accident—the winds suddenly break into the song. The wail of strings and blast of winds juxtapose Gerzon's forlorn voice, encompassing the simultaneously agonizing and gloomy experience of grief.
"Carbon & Dust" is only the beginning of Twin Bridges' exploration into folk-chamber pop, as the lead single to the upcoming Fertile Ashes full-length debut, out on 10/27. With a strong start, Twin Bridges and animator Durnis Markov helm the sail of an exciting new genre.
Does a new future of folk-chamber pop lie ahead of us? Find out below!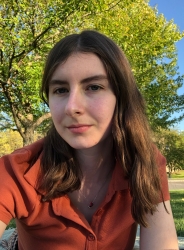 Latest posts by Caitlin Moehrle
(see all)