This past year has disrupted how I understand the concept of time within our society.
Staying inside for weeks felt like months, and primarily interacting with my peers via Zoom merely emphasized the ever-increasing feelings of physical alienation I was experiencing. However, in retrospect, I wish I had done more during this dark period the world was and continues to endure. Everything has made me realize how no matter what's going on outside, life doesn't last forever, and we have to enjoy the time we have while we still have it. 
English indie heroes The Wombats illustrate this realization with the fourth single off their upcoming five studio album Fix Yourself, Not The World titled "Everything I Love Is Going To Die." The harmonious guitars and punchy drums are captivating from the start, backing the lyrics sung by frontman Matthew "Murph" Murphy that focus on how everyone needs to acknowledge and appreciate how beautiful their lives are in the moment before they are simply memories lost to time. 
When explaining the song, Murphy described the song as being "about the impermanence of life and the beauty of each passing second." 
"The key line for me is 'Icarus Was My Best Friend, So I'm Gonna Make Him Proud In The End,' which I guess is a playful take on living life to its fullest even though the consequences of that might be dire," he said. "Certainly not a call to Nihilism, however, but perhaps a call to being present and the joy that can be found in appreciating each moment we find ourselves in."
All in all, the song is another jangly, electro-pop anthem from the band that won't stop giving. Their new album Fix Yourself, Not The World comes out January 7, 2022, and you can pre-order it here. Less than two weeks later, they plan on starting their worldwide tour in support of the album in North America before heading overseas to Europe and the UK later in April and May. All dates are below. 
North American Dates:
January 20 – 9:30 Club, Washington, DC
January 22 – The Fillmore, Philadelphia, PA
January 25 – Terminal 5, New York, NY
January 26 – House of Blues, Boston, MA
January 28 – Corona, Montreal, QB
January 31 – St. Andrew's, Detroit, MI
February 1 – Newport, Columbus, OH
February 3 – Park West, Chicago, IL
February 4 – The Fillmore, Minneapolis, MN
February 5 – The Truman, Kansas City, MO
February 7 – Cannery, Nashville, TN
February 8 – Buckhead, Atlanta, GA
February 10 – House of Blues, Houston, TX
February 11 – Emo's, Austin, TX
February 12 – House of Blues, Dallas, TX
February 14 – Ogden, Denver, CO
February 15 – Union, Salt Lake City, UT
February 17 – Showbox Market, Seattle, WA SOLD OUT
February 18 – Venue Nightclub, Vancouver, BC SOLD OUT
February 19 – Revolution Hall, Portland, OR
February 21 – The Regency, San Francisco, CA
February 22 – The Observatory, Santa Ana, CA
February 25 – The Wiltern, Los Angeles, CA
European/UK Tour Dates:
April 14 – First Direct Arena, Leeds
April 15 – The O2, London
April 16 – Motorpoint Arena, Cardiff
April 18 – Barrowland Ballroom, Glasgow
April 22 – Mountford Hall, Liverpool
April 23 – Mountford Hall, Liverpool
April 29 – La Machine Du Moulin Rouge, Paris (France)
May 1 – Carlswerk Victoria, Cologne (Germany)
May 2 – Übel & Gefährlich, Hamburg (Germany)
May 4 – Slaktkyrkan, Stockholm (Sweden)
May 5 – Rockefeller Music Hall, Oslo (Norway)
May 6 – DR Koncerthuset, Copenhagen (Denmark)
May 7 – Huxley's Neue Welt, Berlin (Germany)
May 9 – Gasometer, Vienna (Austria)
May 10 – Backstage Werk, Munich (Germany)
May 12 – Estragon, Bologna (Italy)
May 13 – Fabrique, Milan (Italy)
May 14 – Komplex 457, Zurich (Switzerland)
May 16 – De Roma, Antwerp (Belgium)
May 17 – Paradiso, Amsterdam (Netherlands)
May 18 – De Oosterpoort, Groningen (Netherlands)
May 19 – TivoliVredenburg, Utrecht (Netherlands)
May 26 – Open Air Theatre, Scarborough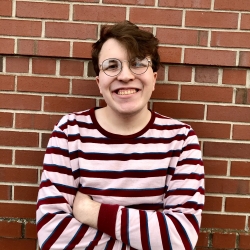 Latest posts by Richard Andrus
(see all)