The arrival of summer comes with the need for captivating folk-pop, and Jonah Kagen is here to deliver. In two short years, singer-songwriter Jonah Kagen has skyrocketed from TikTok fame to wider acclaim, lending his characteristic jazz-inspired guitar playing and personal storytelling to his music. His new single, "The Roads", premieres today, and is a worthy addition to any summer road trip playlist. 
A hallmark of Kagen's music is his personal hue of melancholy and nostalgia, which "The Roads" wholly leans into. The universally-relatable lyrics detail the pain of an ended relationship, accompanied by the push and pull of dynamic musical contrast. Solo acoustic guitar verses are juxtaposed by the sweeping chorus, expanded with strummed guitar, cello, and violin. Kagan declares that "These roads are changin' me, but they all lead back to you", in a memorable and timeless melody.
The expansive rural landscape in the accompanying music video perfectly matches the song's folk aspects. With truly stunning cinematography, we have a bird's-eye view of the landscape as well as close-ups with Jonah Kagen on guitar. The sky is cloudy and gray, while the lush greens of the forest burst into view. The contrasts, both visually and musically, emphasize the undercurrent of doubt and regret on the speaker's part, mourning the loss of love.
Represented by Arista Records, Jonah Kagen has amassed nearly 2 million Spotify listeners and more than 140 million global streams since the release of his debut EP, 'georgia got colder'. "The Roads" builds upon this journey, as he crafts music full of heart and earnest. Stream the song today on all platforms, and check out the music video on Youtube. 
Let Kagen confide in you with a listen below: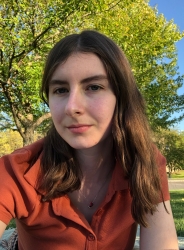 Latest posts by Caitlin Moehrle
(see all)