Stephen Patchan commands all attention with his new single, "Thank You for the Panic".
The independently released track arrives under Patchan's artist name, The Ceiling Stares, and most certainly accomplishes his goal of illustrating the madness that has been 2020.
With a jarring start and an abrupt ending, discomfort is just one of the many sentiments that this song evokes. The piece includes overlapping vocals, pulsating synths and fast-moving brass instrumentation — creating a similar ambience to what we would expect from Alt-J and Moon Hooch coming together for a genius, impromptu recording session. It becomes clear that Patchan has a knack for building tension, as he leads us to a dead stop that no one was expecting. Suddenly, we find ourselves being prompted to, quite literally, "go insane".
I don't know about you, but it's not too often that I am encouraged to go crazy… Yet, I think Patchan is on the right path with this notion.
What this song proves is that, from time to time, chaos is good. And if anything, listening to a chaotic song might just make the rest of life seem a little bit less chaotic in comparison.
In "Thank You for the Panic", the born and raised Los Angeleno uses his synth rock sound to illustrate the personal and societal angst this year has brought. Patchan takes inspiration from groups such as Wire and Yellow Magic Orchestra, and this track serves as a nod to Golden Age hip hop.
Patchan's debut album, Wicked Problem, was released this past August.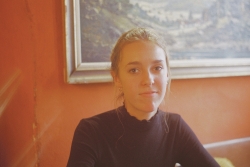 Latest posts by Sabrina Thurber
(see all)