It's debut album time for London-based band Tempesst with their release of Must Be a Dream that was brought to life at Pony Recordings; the band's label in Hackney, London. The ten track album is filled with generous servings of psych pop and stylistic nods to the band's influences of Joni Mitchell, Al Green, Wings, and Electric Light Orchestra. The core of the band is made up of twin brothers, Toma and Andy Banjanin, who's musical journey spans across the cities they lived in and life lessons they learned along the way. Rooted into a musical family and playing in a church band as teenagers, the brothers left Noosa, Australia for a short stint in Brooklyn, New York during the bustling indie scene of the late 2000s. Inspired and full of the DIY tactics and ideas they experienced, they took to London and began culminating the band, their label, and the album. Rounding out the lineup with guitarist, Swiss-American Eric Weber and old friends Kane Reynolds and Blake Misipeka, the keyboardist and bassist, Tempesst hunkered down in the studio they built while meticulously working on their sound. "These days artists are expected to do so much themselves and we have always been slight control freaks anyway", states Andy. "DIY is part of everything that we do, so that extends to our label, the studio, the videos, all of it and really it's just how the indie music scene has evolved."
Must Be a Dream allows listeners to transport musically and explore dense, emotional themes, all while being comforted in the juxtaposed moments of sun-kissed melodies and angelic synths. "Better Than the Devil" stands as the opening track, where Andy on drums showcases a steady kick drum beat in the beginning before really opening up with the rest of the arrangement. The background vocals on the title track are church choir melodies that serenade the metaphorical idea of the song; that the perfect woman in front of you couldn't possibly be real; couldn't possibly exist in your reality. Tempesst dives into identity faceting in "High on My Own", through judgmental lyrical undertones about other's self-acceptance, and a contrasting upbeat feel that leaves the listener with hope of following one's own path. Tackling the haunting struggles that love can bring, "Mushroom Cloud" dramatically lays out the spite and pain sometimes felt for the ones we fall deepest for. Toma's simple chorus guides the listener through the struggle, and ends with a lyrical punch to the heart "When sorry's a worn out sleight of hand / good love is a dried up wilderness / you'll know where to find me / on the fallen horizon."
Complete with harp instrumentation, and "oh la la la la la" vocals, "Walk on the Water" is a euphoric transitional track to different themes of the album. A mashup of vocal harmonies on top of deep instrumental reverb, "On the Run" holds stories of death, substance abuse, and the forever loss of innocence. Explains Toma:
It's about a close friend who disappeared for a decade and returned as someone completely different, and it's an ongoing trauma. When I connected the music to the lyrics to try and finish the song, it felt like it had a rolling rhythm, so the chorus fell into place from there. For me, this song carries a lot more emotional weight.
The final album tracks explore themes of modern day society in relation to getting older, boredom within the digital age, and the paralleling question of what life is supposed to mean through all of it. It's the juxtaposing ideas of sound and song meaning in this debut album where Tempesst really invites the listener to their psych-rock wonderland – where storytelling and sweet melodies will meet you at every riff.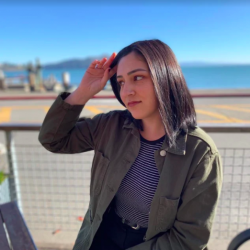 Latest posts by Sadie Battle
(see all)