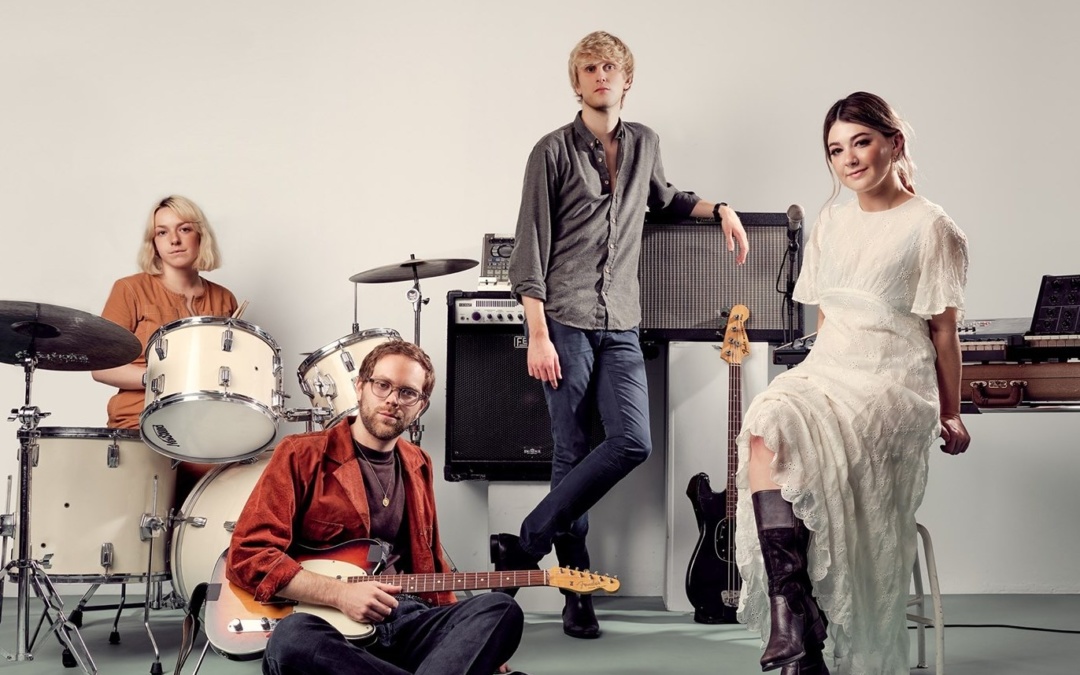 Indie pop wizards Yumi Zouma's highly-anticipated new album, Truth or Consequences, was released today via Polyvinyl Record Co. Produced by Yumi Zouma themselves with mixing by Jake Aron (Solange, Snail Mail), TOC is chock-full of contemplation, duality, and the hard truth wrapped in a soft blanket.
The album is the group's third but the first at their new label home at Polyvinyl Records. The narratives? Heartbreak (both platonic and romantic), emotional distance (both real and imagined), disillusionment, and being out of reach, and while there are rarely definitive answers to any of these tough subjects, there's an undeniable release that comes from speaking your truth (even if it's just to yourself).
Lead single "Right Track / Wrong Man" hits YZ's sweet spot, giving listeners that trademark dancing-through-a-dream, shimmering sound that they seem to deliver so consistently and with such ease. Synths bubble behind Burgess and Simpson as they weave their way through smooth-toned beats with their sweet and feathery vocal blend. According to front woman Christie Simpson, the song stems from "a place of uncertainty- of not knowing if you should stay in a slightly unfulfilling relationship, or branch out and make the most of the youth you have left", a problem that many young people feel burdened with after having spent a considerable chunk of their fleeting time be young with one person. Simpson talks about this track better than anyone else could, finishing the statement with a sentence that could serve as their slogan; "This is our dance floor anthem to the confusion of living through your twenties."
"Lonely After" is a dream pop riddle of self-discovery. The contemplative opening track somehow manages to be a sparkling ode to pop while feeling as though it's enveloped in a cloud, unbelievably soft and blurry around the edges in the most satisfying way. It floats across the auditory senses, pulling listeners in to get wrapped in the blanket of indie dream-pop comfort that is Truth or Consequences.
"Southwark" dances across twinkly piano melodies and breathy vocals. "Sage" steps off the white and fluffy clouds that Yumi Zouma exists in and floats into the starry night sky, delicately monotonous vocals over a driving synth-beat feeling like the soundtrack to late night drives and contemplation.
"Cool for a Second" is a lyrically sharp bright spot of synth pop that almost never happened. Bassist Charlie Ryder gave some background on the album centerpiece in a statement. "The song was demoed in Los Angeles and then long forgotten, destined for the scrap heap. A spark of inspiration from Josh in the introduction reestablished that for us, the most conspicuous of melodies are often hidden in modest beginnings." It touches on isolation and the ensuing fallout in a letter to the past, and provides YZ fans with another one of those your-twenties-are-confusing-as-hell dance floor anthems that most lost souls in that time of their life could desperately use. Look no further, 20-29 year olds, we have the music for you!
Yumi Zouma has a talent for shielding hard truths with soft tones, providing glimpses into lucid romanticism across a dreamscape of dance-able beats and poignant lyricism. Truth or Consequences is a testament to the success of the band's approach – a united body of melody that mines the spaces in between.
Yumi Zouma's Truth of Consequences is out March 13th via Polyvinyl Records.
YUMI ZOUMA TOUR DATES
03/07 – London, UK @ Rough Trade East (In-Store)
03/10 – London, UK @ Moth Club [SOLD OUT]
03/12 – Washington, DC @ DC9 # [SOLD OUT]
03/13 – Brooklyn, NY @ Baby's All Right # [SOLD OUT]
03/14 – Philadelphia, PA @ Boot & Saddle # [SOLD OUT]
03/18 – Austin, TX @ The Parish [SXSW]
03/19 – Austin, TX @ Seven Grand & Las Perlas [SXSW]*
03/19 – Austin, TX @ Banger's [SXSW]
03/20 – McAllen, TX @ Cine El Rey @ DREAMS
03/21 – Dallas, TX @ Blue Light @ NSFWknd
03/24 – San Francisco, CA @ Rickshaw Stop #
03/26 – Los Angeles, CA @ Moroccan Lounge # [SOLD OUT]
03/27 – Los Angeles, CA @ Moroccan Lounge # [SOLD OUT]
03/28 – Boise, ID @ El Korah Shrine @ Treefort Music Festival
03/29 – Boise, ID @ Treefort Music Festival – Main Stage
# w/ Magdalena Bay
* DJ set