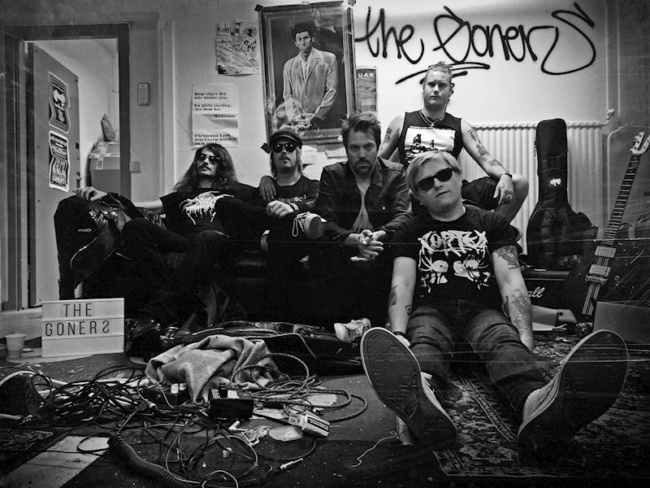 Nordic metal rockers The Goners are a group that rose from the ashes of former rock bands Salem Pot and Yavan, and they have now come together to form a new group and release a 10 track album entitled Good Mourning. Think fuzz-drenched 60's garage meets 70's doom, but add a hearty dose of punk rock, and you've got The Goners.
For their debut, The Goners cast off the influence and sounds of their previous bands and manage to create a new vein of their own in a post-rock world. They adopt a raw approach and aren't afraid to break hard rock and metal molds, and it pays off.
Album opener "Are You Gone Yet?" is a rich track heavy with classic metal guitar riffing. This one holds a clear influence of 70's rock style. The Goners then slow things down a bit for "High, Low and Never In Between", a vibrant punk groove. "World of Decay" might deceive listeners in the first chunk as it initially feels indie rock, but it moves back into The Goners sweet spot of classic hard rock. This track also features cool jiving guitar on the refrains. "Evil (Is Not Enough)" exists in a similar vein of rhythm. Brash cut "The Sickening" is a chaos-rich 2 minute energy blast, heavy with distortion.
70's hard rock prevails again with "Down Out". This one rocks out with clanging grooves and ever-circling bridges and even throws off expectations by adding in horns in the second half before ending with an Iron Maiden-style rave out. "You Better Run" is a classic pounding head banger with a twist of the delightfully weird. This one features a nice dose of eccentric synth.
"Dead in the Saddle", a Dead Moon cover, is essentially a sinister fun 5 minute riff-off. The track is intricate and catchy and (of course) laden with reverb-laced guitars. The shouty vocals and hand-clap inviting rhythm makes this closing cover a noteworthy addition to the album.
Good Mourning will be available everywhere on March 13th, 2020 via RidingEasy Records. Pre-order is available here.