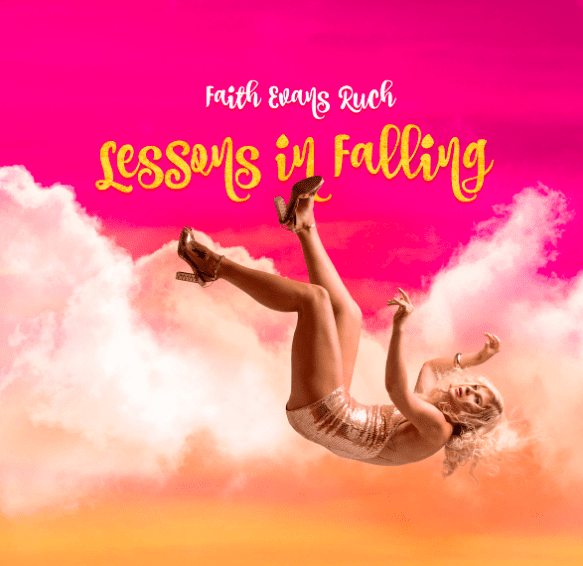 Nashville-based folk/Americana singer/songwriter Faith Evans Ruch released her latest – a ten track album titled Lessons in Falling – on October 13th. Her first release since 2014's After It's Said & Done, Ruch has chosen to incorporate more genres of music in her writing and sound, drawing influence from soul to pop to r&b and beyond. There are clear roots with the songwriting, as every song has a lot to do with love. But it's the vulnerability in her vocals, the way she can really reach and make you feel with every note, that is of actual note in this new release.
"I'm Yours" starts the album off with a bang, as we experience a real nod to Elvis in the crooning vocals. Though she visits similar notes throughout the album, this one feels the most like it was produced by The King himself. And while "Beg for Mercy" easily could have gone that way with the title, it serves as the quintessential mid-tempo blues track. "Sugar" takes on a different type of nostalgic flare, and quite frankly we could see it placed in a remake of Grease. And "Sunny Side" takes on an even more diverse direction, as we melt into a modern spin on a 70s funk feel.
"This Cold" is the first real slow jam on Lessons in Falling, questioning the length of time she has been "wandering in this cold", begging the question of love's existence. Quickly, however, the tone changes with "Stupid Boy" and the subtle vocal quirks she incorporates to hook the audience into this one. The use of a choir-like backup vocals makes this one feel more robust amidst its pop-influenced sound. "Blood From a Stone" takes yet another different approach, the tempo changing a couple of times while Ruch threatens the man that tries to lie to her and "play it cool", as she explains that she is "nobody's fool". We're not ones to cross her after this track, that's for sure.
But there are still three more tracks to delve into, and while "Rock Me Slow" is clearly the second slow track, it might place her on a different level of vulnerability as she leads us through a lonely narrative of sleeping alone and all of the tumultuous emotions that love or the lack thereof can burden a human with. We expect a lot from a song with the title "Bang Bang", and we are pleasantly surprised with the final product. It feels like a song that came right out of the Kill Bill soundtrack, and you'll understand what we mean from the first line to the very last chords. She rounds out her work with the aptly titled "Thank You", which slowly careens through robust, soulful instrumentals toward her overall message of closure. Bittersweet, as now we have to wait to see the next step in Ruch's musical progression.
Lessons in Falling is available now. Keep up with Faith Evans Ruch here.