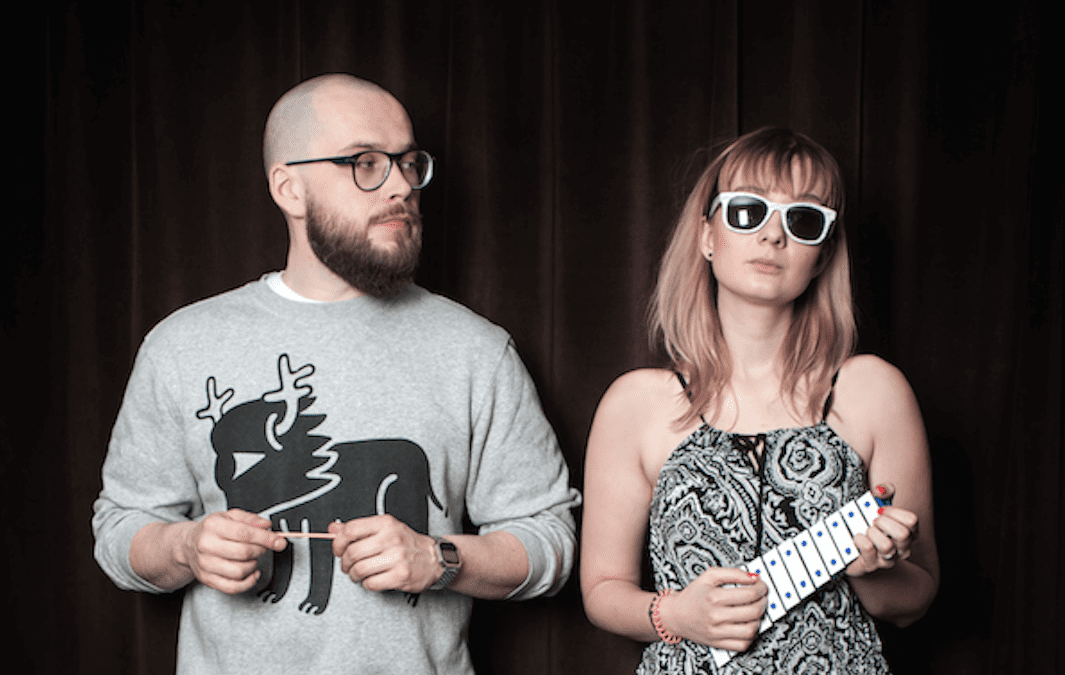 At the end of November, Polish avant-pop duo Legumina released their debut album, a 11-track collection affectionately titled Something Pasty and Probably Yellow. But this album comes from a different place than many others come from, and it's something we definitely took interest in right off the bat. Legumina is the marriage of two stunningly vibrant personalities who, as it just so happens, chose to end their romantic relationship quite some time ago. But in 2013, the pair of Mon Sadowska (vocals, lyrics) and Marcin Gręda (guitar, ukulele, electronics, laptop, earlier Letdown Dept.) chose to reconcile those differences enough to form a duo, and to create an album that seems to serve as both closure on their romantic past and as a new beginning for their artistic futures. It's unique, well-written, and beautiful to a point that we have to make it known.
Beginning with light, staccato notes accompanied by strangely contrasting lines of voiceover, "(Not That) Yellow" makes you feel like you're in a futuristic lullaby. Pair that with the slow, ethereal notes of "Berlin" and the twinkling sounds of "Probably June", and Something Pasty and Probably Yellow starts out in this quirky, beautiful space that you would assume a She & Him album might steer toward. Once Sadowska's vocals hit a track, even if it existed in another soundscape altogether, she immediately brings a fairy-like presence to it all. A fact that comes to us as incredibly quirky and endearing, especially with fourth track "Song of the Northern Pole" which – instrumentally, at least – does perfectly capture the way you assume being in the North Pole would feel. Fifth track "Swim Safety" plays a little more with dissonance in the intro, swirling into this impossibly gorgeous track.
As you reach "Parking Space Inequity", you're so used to the upbeat feel of its predecessors that you don't quite expect the melancholic twinge to kick in at that point. With the pace of the lyrics versus the instrumentals, it almost feels like Legumina found their inspiration in aughts emo and punk music, but it's been updated with an electro pop feel that slightly resembles trance music at a rave. While "Sink Sank Song" makes you feel like you're actually inside a video game – which makes the song that much more fun -, "Short Guide to Palm Reading" is considerably less witchy than what we would assume from the title. We are 100% on board with the bizarre title of track 9, and totally agree with the sentiment that "Happiness Isn't Happiness Without a Violin-playing Goat". The name of the track itself made us feel like we were wandering back into that punk/emo inspiration, a la the long titles that Fall Out Boy and Panic! at The Disco have become known for. "Elementary" slows things down to a crawl – really returning to that lullaby feeling – and the band expertly rounds out the album with the track "Farewell Captain" (ft. Edyta Glinska) which audibly insists on the closure of the album. The audience feels a finite energy in this track, bittersweet in its delivery, much like the closure the duo found through the production of this album.
Check it out below, and let us know what you think in the comments!
Something Pasty and Probably Yellow is available now. Keep up with Legumina here.