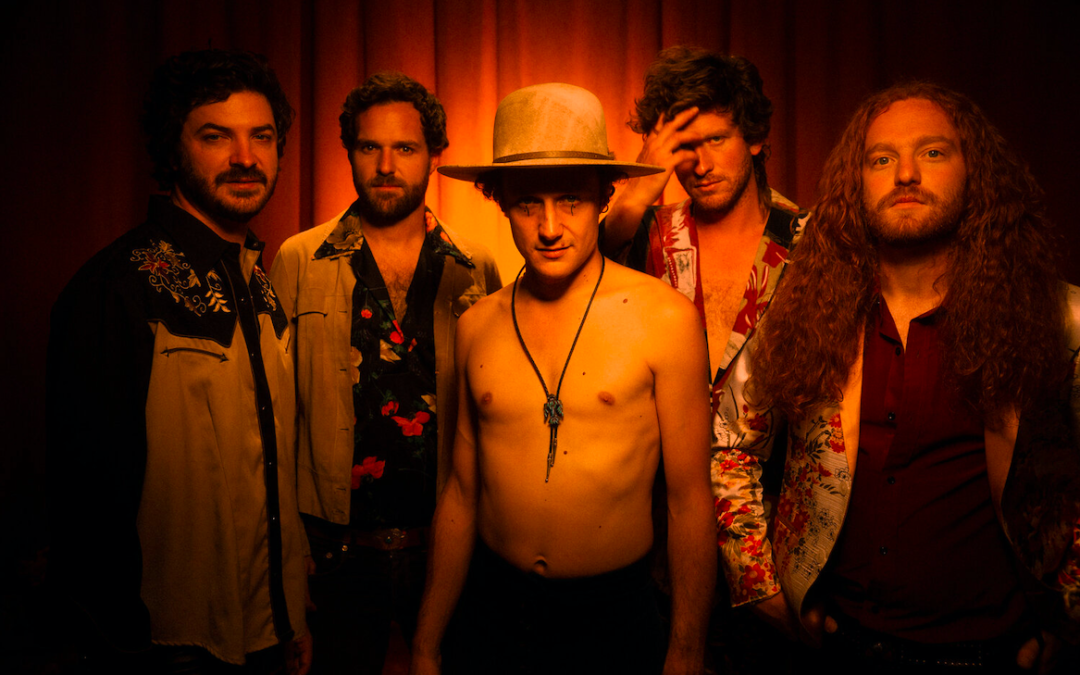 Oakland rockers Whiskerman have just dropped their fourth studio album, Kingdom Illusion, which the band describes (rightfully so) as a "rock and roll vision quest". Known for their ambitious songwriting, thunderous live show, and acute lyricism, the group is now emerging at the forefront of the revitalization of the Bay Area's psychedelic and festival scenes. Frontman Graham Patzner (who's rumored to be of the underworld himself) leads the group, which is rock-and-roll on the surface but rooted in the classic, psych, and glam rock traditions. Patzner is responsible for vocals, guitar, violin, and keyboards, and he's backed by Will Lawrence on bass and mandolin, Dan Schwartz on drums, Charles Lloyd on guitar and sitar, and Jeremy Lyon on guitar. And if you think that you can gauge what they sound like based on that information, let me assure you; you haven't the slightest clue.
The two lead singles, distortion-heavy rage track "Belly of the Beast" and physch-synth defiance number "Fuck Yeah" may give first-time Whiskerman consumers the idea that this band exists primarily in this vein of hard rock. And when I say hard rock, I'm talking your classic foot-stomping, heart-pounding, head-banging, parents-crying-over-their-teenager's-newfound-rebellion hard rock.. You get it.
However, this is not the case here.
Album opener "Rattlesnake" begins in a tranquil piano ballad featuring gently strummed guitar chords and angelic falsetto guiding us through a lush forest of strings. The track is 6 minutes long and at the halfway mark the tone notably shifts, and Freddie Mercury-like vocals are traded for something more in the territory of Alex Turner. Sweet violins and languid piano are swapped for a quicker tempo and the kind of instrumentation you'd expect on a hard rock record, but as soon as you've settled back in, they fluidly bend back, rocketing back into the art-rock heavens. Color me impressed, these boys have range.
"Villains" brings an unexpected but welcome tinge of soul to the mix. The extremely heartfelt number feels both romantic and a little defeated. Bright, shiny, and teetering on sensory overload, it's almost overwhelming, but in a manic-tinged triumphant sort of way. Think anthemic rock, but with psychedelic elements. Power dominates everything; it is present in the writing, the band, and definitely in Patzner's voice, which possesses a beautifully raw intensity that is an absolute constant throughout the record, whether he's scream-singing impassioned or tiptoeing across his ridiculously capable falsetto.
Operatic art-rock piece "Be Real" is a nearly seven minute journey that only Patzner himself could explain. "'Be Real' is a rock 'n' roll odyssey," says the frontman. "A sacred jester drags a priest out from a church to take him on a psychedelic journey, revealing to him his hypocrisy and lack of separation to the rest of this world of clowns." Drama is not something this band has to reach for; they exist in it.
"The Great Unknown" fluidly blends hard rock and psych, keeping the band's effortless flexibility on constant display. "Something About Love" slows it down and gives everyone a minute or three-and-a-half to breathe before projecting us back into another dimension for the closer. Have no fear though, this track still holds tightly to the sonic jungle of sound that makes the record so damn cool in this brief moment of tranquility.
Not shockingly, the band ends on a dramatic and (of course) impressive note with the title track. The nearly 8-minute closer is a roller coaster of a ride to the pinnacle of rock glory, skillfully and sneakily pulling its many layers together. Strings swell, the sitar does whatever sitars do, and Patzner's insane range soars up to the kingdom he's singing of, backed by what could only be a chorus of angels. This illusion is painted with every color of the rainbow.
Kingdom Illusion is out everywhere now.
TOUR DATES
03.07•The Grove House (Mariposa, CA)
03.18•Satellite (Los Angeles, CA)
03.19•Last Exit Live (Phoenix, AZ)
03.22•Lost Lake (Denver, CO)
03.25•Rye (Salt Lake City, UT)
03.26•Treefort Fest (Boise, ID)
03.27•Treefort Fest (Boise, ID)
03.28•Treefort Fest (Boise, ID)