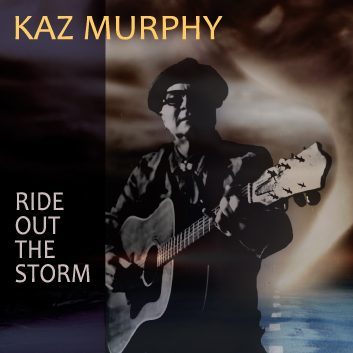 Kaz Murphy's music is about as Americana as it gets, and his newest release Ride Out The Storm is no exception.  This folk artist's sound is that of the old west, forming stories with each lyric and melodic refrain.  Kaz has had an illustrious career, stemming from his beginnings as a lead-singer and drummer at age 10.  He established himself as a respected writer of musicals in the 1980s, transitioning to music after forming a folk new wave band in 1988.  Multitudes of bands and projects later, Murphy as come to Ride Out The Storm, which can be seen as a return to his roots.
Each track on this album paints a picture, forming simple, yet elegant, audio tapestries for us to envision while listening.  Stories of younger days, tough times, and perseverance are spread throughout the 11 song project.  While listening, I couldn't help but think about my own difficult situations.  I also couldn't help to make a vocal and sound comparisons to country-western artist Marty Robbins and the illustrious Johnny Cash.
For those looking to get lost in deep Americana story telling, then Ride Out The Storm is the album you must listen to.  Ride Out The Storm is out now.  You can visit Kaz Murphy's website at https://kazmurphy.com/ for more information.