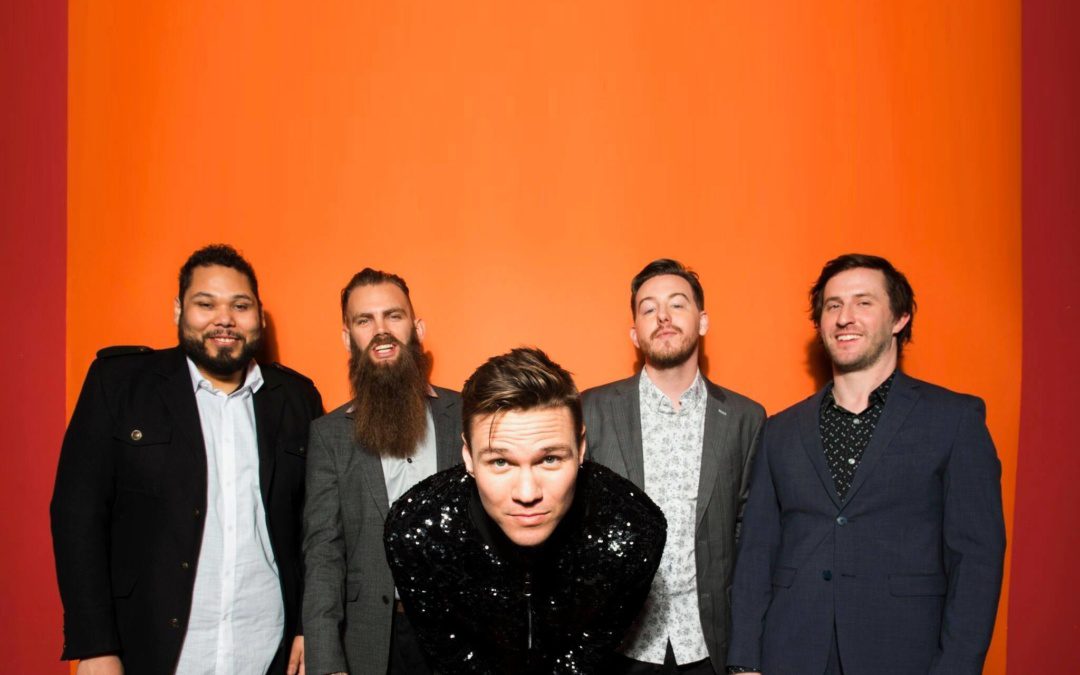 Dance Gavin Dance has just released their new track, "Son of Robot", the second single from their upcoming record, Artificial Selection. The Sacramento based quintet is made up of drummer Matt Mingus, bassist Tim Feerick, guitarist/vocalist Will Swan, and vocalists Tilian Pearson and Jon Mess. The rock band has now dropped "Son of Robot", a second taste of what's to come, following the release of "Midnight Crusade".
"Son of Robot" is an explosive track, showcasing Pearson and Mess' powerful vocals, as well as the strong synchronization of the band. With a thoroughly punk chorus of "How could we forget about you?", "Son of Robot" is a sure sign that Dance Gavin Dance has a great album in store for their fans.
Watch for Artificial Selection, to be released June 8 via Rise Records.
Tour Dates
5.09.18 – Wallingford, CT – Oakdale Theatre *
5.12.18 – Niagara Falls, NY – The Rapids Theater *
5.13.18 – Somerset, WI – Somerset Amphiteater
5.14.18 – Des Moines, IA – Wooly's *
5.15.18 – Sauget, IL – Pop's *
5.16.18 – Fort Wayne, IN – Piere's *
5.18.18 – Columbus, OH – Mapfre Stadium
5.19.18 – Lexington, KY – Manchester Music Hall *
5.20.18 – Springfield, MO – Gillioz Theatre *
5.22.18 – Corpus Christi, TX – Concrete Street Amphitheater *
5.23.18 – Houston, TX – White Oak Music Hall *
5.24.18 – Dallas, TX – The Bomb Factory *
5.25.18 – Little Rock, AR – The Metroplex *
5.26.18 – San Antonio, TX – Alamo City Music Hall
5.27.18 – Lubbock, TX – Jake's Sports Cafe
5.29.18 – Memphis, TN – Growlers
5.31.18 – Ft. Lauderdale, FL – Culture Room
6.02.18 – Pointe Verda Beach, FL – Pointe Verda Concert Hall
6.03.18 – Richmond, VA – The National
6.05.18 – Westbury, NY – The Space @ Westbury
6.06.18 – Philadelphia, PA – Union Transfer
6.07.18 – Portland, ME – Port City Music Hall
6.08.18 – Clifton Park, NY – Upstate Concert Hall
6.09.18 – Sayreville, NJ – Starland Ballroom
6.10.18 – Rochester, NY – Anthology
6.11.18 – Toronto, ON – Opera House
6.13.18 – Cleveland, OH – Agora Ballroom
6.14.18 – Detroit, MI – Majestic Theatre
6.15.18 – Joliet, IL – The Forge
6.16.18 – Louisville, KY – The Mercury Ballroom
6.17.18 – Kansas City, MO – The Truman
6.18.18 – Englewood, CO – Gothic Theatre
6.20.18 – Santa Ana, CA – Observatory
6.21.18 -Santa Cruz, CA – The Catalyst
6.22.18 – Sacramento, CA – Concerts In The Park
Stay connected with Dance Gavin Dance
Twitter // Facebook // Instagram