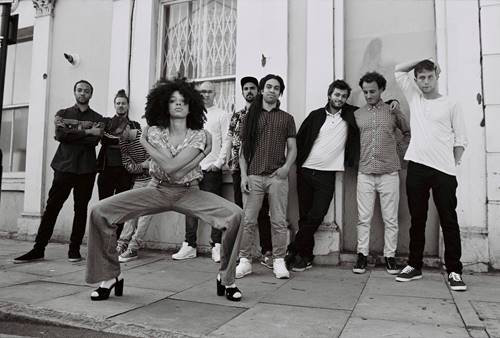 Today, Leeds-based Nubiyan Twist – made up of Tom Excell, Nubiya Brandon, Pilo Adami, Finn Booth, Luke Wynter, and Oli Cadman with a horn section comprised of Joe Henwood, Denis Scully, Nick Richards, and Jonny Enser – celebrates the release of their new album Jungle Run. We're huge fans of the release in its entirety – the 10 track collection is driven by interesting and robust soundscapes that somehow invoke a sense of freedom and happiness across the board.
With twelve band members, you'd think Nubiyan Twist might take issue with regards to lead vocals and areas to focus on in each song, but they took time and thought to rotate through their collection of phenomenal and fun vocalists. Each track has is pure bliss, layered with precision and finesse, work that makes us excited to delve further into its layers with each spin.
We're huge fans of seventh track "Permission", which features the vocals of Nubiya Brandon and essentially brings a whole party with it. Don't just take our word for it, though. Check the track out below, and then listen to the entire album if you've got time. Very interested in hearing which track is your new fav!
Keep up with Nubiyan Twist here.