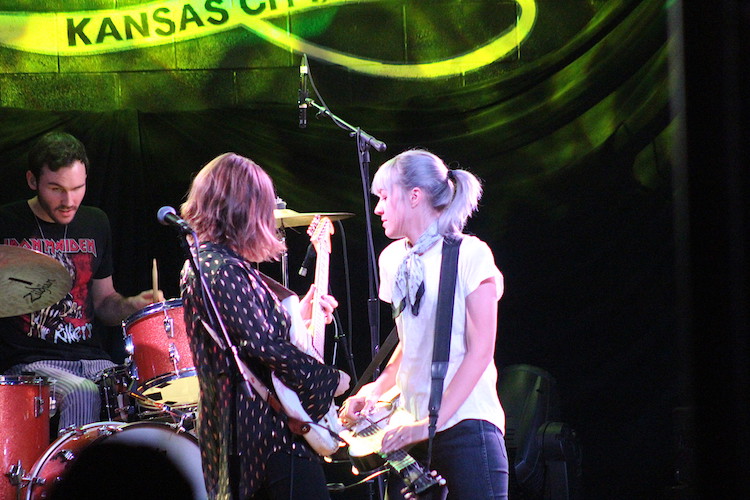 I stumbled upon Larkin Poe in late 2016. I was on a YouTube music spree, as one will occasionally do, and they happened to pop up in my "Up Next" column. It was a Jam in the Van video of the song Jailbreak. The video had been posted in 2014 so it was roughly 2 and half years old by the time I found it. The song had a good pop to it and both Rebecca and Meghan had a good energy for the song. After the video ended, I began to dig into more of their stuff, Don't, Sugar High, Stubborn Love and Trouble in Mind. Every song I listened to was solid, but the studio recordings lacked that something that separates music you throw on in the back ground from music you throw on to really listen to.
Flash forward to the Garage at Knuckleheads Saloon on a Monday night. I was unsure of the following that Larkin Poe would have, especially with it being a Monday night, in December, in Kansas City Missouri. We got to the venue 20 minutes before the opener was scheduled. I assumed this would be plenty of time to grab a seat, grab a drink and talk before the show started. What's that they say about assumptions? The venue was packed. We were fortunate enough to find a couple lonesome bar stools in the corner. Other than those, it was standing room only.
It's important to point out the composition of the crowd for this event. There were plenty of adults in attendance and the usual crowd that seems to attend Knuckleheads religiously, regardless of what type of artist or music it being played. The best part about the crowd for me were the parents that brought their kids with them. Live music is an important thing to support and it's even better when the band is on fire like Larkin Poe was that night.
When Larkin Poe took the stage, I immediately understood why the place had sold out. The energy they brought with them left the crowd with one option, buckle up and enjoy the ride. Their opening song "Summertime Sunset" brought the house down and it only got better from there. Meghan's slide guitar outro for Look Away was a good for lesson for any guitar player in patience, tone and control. Rebecca's vocals have gotten stronger and more confident since I first heard her, and the entire concert was a showcase for that talent.
The show was refreshing and genuine and as a soon to be father of a daughter, it was awesome to see two sisters absolutely dominating the stage. I cannot wait for them to come back around or anywhere close, I will be dragging my friends and most likely a certain family member, you know who you are, to see them again.
Keep up with Larkin Poe here.