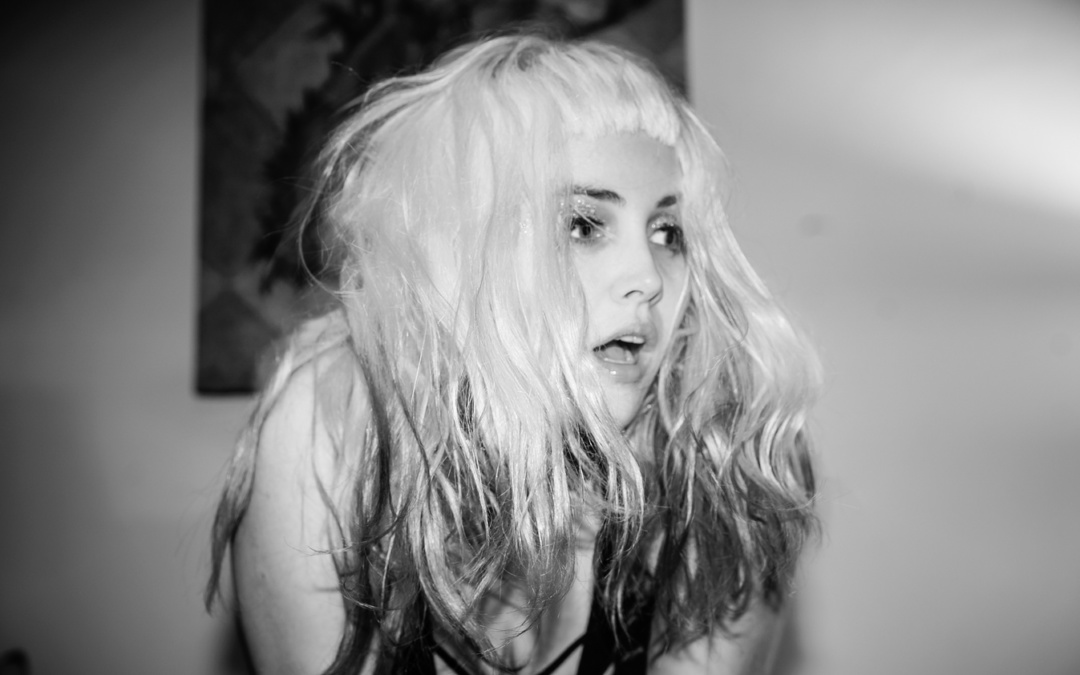 Southern California-based psych/folk musician Elizabeth le Fey has been making beautiful strides with her music under the moniker Globelamp. We've been bedazzled by her presence ever since 2014's Star Dust entered our lives, and watching that progression has been an absolute pleasure over the years. Luckily enough, we got a few minutes to speak with the masterful le Fey about her music, and we also got a few other fun questions in.
Romantic Cancer is your most stripped down album to date, why did you decide on this for your third release?
I wanted to finally put an album out that sounded closer to how I sound live. When I perform live, I play alone. Although I love experimenting in the recording studio, I thought it would be good for Globelamp to have an album in my discography that was true to what the roots were of my music making – guitar, piano, and me.
You recorded Romantic Cancer in Bohemesphere Studios not far from Woodstock, which is a name synonymous with music.  Did any element of Woodstock appear in your music?
Yes I think the elements of Woodstock were in my music even before I went there so it was extra cool to be inspired by the actual location of Upstate NY. Growing up, there is so much mythology around Woodstock that if you are a musician, you probably have romanticized it.
Your new album focuses on how we pull ourselves back together again after a breakup, how would you hope this would help and inspire people who are just going through a breakup?
I hope this album would encourage people to love again even if they have been hurt before. I hope I'm not the only one who relates to the emotional low of "lowest low" haha. I think that sometimes you don't realize you are romantic until you date someone who is afraid of romance or love. Or maybe you are that person who fears love because of fear of abandonment or hurt. This album could be for either person in that scenario – the hopeless romantic – or the closed off emotional shell who secretly longs for love.
How did Romantic Cancer lead on from The Orange Glow?
The Orange Glow in my mind is more a psychedelic dark forest fairy tale. Romantic Cancer is more of a journal entry exposed.
You are a fan of British folk music of the 60's, what is it about the music of that era and place that influence you so much?
I think I love the minimalism of it and the raw talent that was around in that time period. Now people can hide behind so many effects in music, it's hard to tell who is actually creating what. I love the British folk music of the 60's and how they tell stories and create a whimsical atmosphere with their words and phrasing.
You recorded a few songs on Romantic Cancer in just one take, what was it about the song and the emotion of the song that felt right on the first take?
I think it's because I had practiced the songs so many times and envisioned how they should sound so it was easy to just bust some of the songs out. Of course people recording with you always want to add more, but in my mind, I already knew what some of these songs sounded like and I had a very clear vision of it. There is something powerful in recording one take of a song when you just KNOW you got it.
Why was love such an important subject for your new album?
Because I used to think that showing emotions and being vulnerable was weak but these last few years I realized that it is actually strong to say how you feel – because most of the time people can relate to those things the most. We all know what it feels like to fall in love or get our heart broken.
James Felice joined you on Romantic Cancer, what was it like to work with him as you are a fan of his music?
It was amazing and a total honor. I am a huge fan of the Felice Brothers and I think James Felice is so talented and he is also a sweetheart. I love the additions he added to the album. I can't even imagine "Blinded" or "Black Tar" without him now.
When you wrote "Blinded" you wanted it to have a synth-pop sound, now I'm a big fan of synth-pop so what bands would have influenced you?
Hmmm I'm not really sure. 80's stuff and the song "I wish You would" by Taylor Swift. Kinda a random answer but the backup vocals on I wish you would made me want to write a song like that (didn't happen) but I kept imagining the vocals on "blinded" going "you and me you and me" over and over again the way Taylor goes, "I Wish I I I wish I II wish II I wish you would"
You speak a little bit of German and have visited Germany, what is it about Germany that is so magical or draws you there?
I guess their creepy history and the actual land, it feels magical. Growing up I always thought German was the ugliest language and had no desire to visit Germany, but after being there, I changed my mind. My uncle is a professional trumpet player in the Bonn Symphony Orchestra so I have had the pleasure of spending a good chunk of time in the country. I have always been fascinated by fairy tales and the Grimm's fairy tales are German. When I was a student at The Evergreen State College I also took a course called "Blood and Beauty; the study of Germanic paradoxes of their love of mystery and order". It was a really intense class. I love how Germany is helping the refugees from Syria, especially with the German's dark past. My uncle has a whole Kurdish family from Syria living with him. They have their own house on his property. I feel very blessed that I was able to become such good friends with the Kurdish family. Since none of them could speak English, I had to get better at German. I actually wrote a song about them, and refugees in general, that I cut from Romantic Cancer. It didn't fit the theme and I plan to put on the next album.
What do you feel is your most ethereal song you have ever written?
Wow hard question. I guess it matters if I am performing it or listening to a recorded track. Faerie Queen?  
What do you feel are the most important elements of your music?
The feelings, the words.
____
Keep up with Globelamp here.