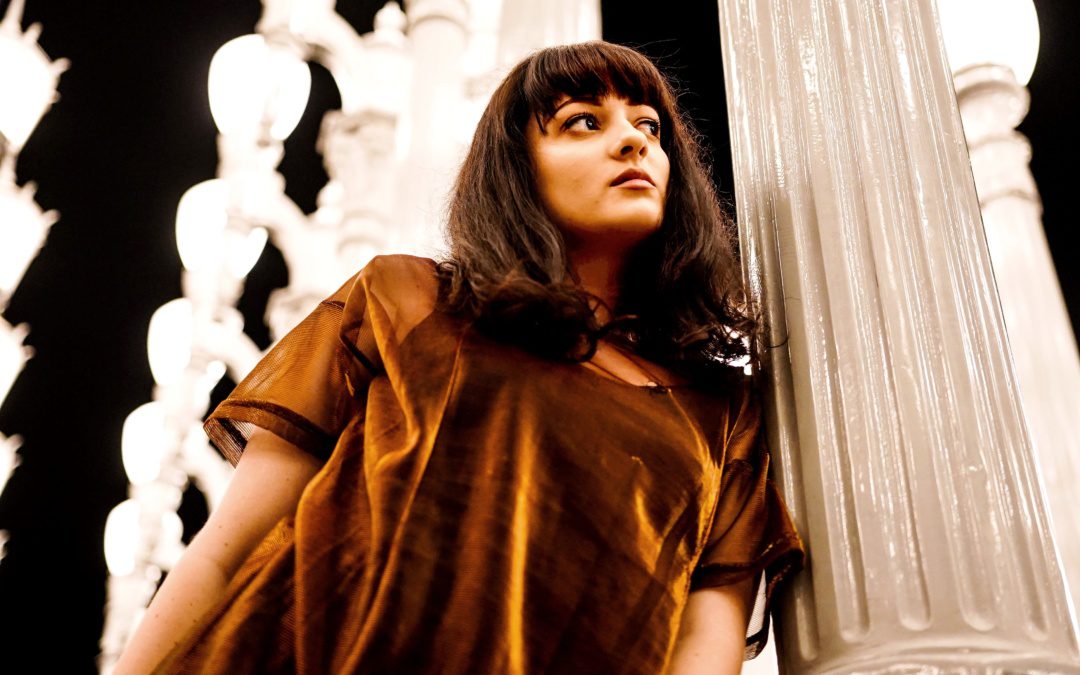 In August, Los Angeles-based pop singer/songwriter JADE released her debut EP to critical acclaim. Featuring the beautiful singles "Find A Place" and "Wait For Me" alongside seven more incredibly produced tracks – including our personal favorite "Won't The Rain Come Soon" – the made quite the impression, floating her ethereal vocals effortlessly over both acoustic and more electronically-driven tracks.
If you haven't gotten a chance to listen to the flawless lines on PINK, check it out below and then read on for a fun little interview JADE did with us recently!
What is the first song or album you ever remember hearing, and who introduced it to you?
I think the first artists I had been introduced to were Bryan Adams and Michelle Branch. My dad would always play their music in the car or throughout the house.
Was there a moment that it struck you and you realized you were going to pursue music, or did it kind of slowly evolve?
It slowly evolved. I liked to play the "famous game" as kids with my friends; we were big time celebrities and we would try to write songs and preform them to each other. Eventually, I started doing it on my own. It went from being a game, to a hobby, to a lifestyle.
You have such a – dare we say it? – unique voice. It's raspy and delicate at the same time, ethereal almost. Did that come naturally, were there vocal lessons involved?

Thank you! I did take voice lessons to help control my pitch and my breath. But my style of singing has evolved through listening to other artists and realizing certain words and phrases are easier to sing depending on how you pronounce them. A lot of muscle memory!
Your album PINK has been out for a minute, and it's an absolute gem of a release. If you could sum it up for us and say your album is a Thanksgiving dish, which one would it be and why?

If my album were a Thanksgiving dish, it would be green bean casserole. People like it and it's important, but there are bigger and better things to come!
"Wait For Me" was, of course, a beautiful single to release leading up to dropping PINK. But we are absolutely enamored by "Won't The Rain Come Soon". What specifically inspired it, if you don't mind us asking?
Thank you, WTRCS is one of my favorites. It's about the different struggles you go through in different periods of your life and wondering when you're gonna get a fresh new start to something that can be better.
What was studio life like? Immerse us in the experience!
It can be very long days. Sometimes up to 13 hours. No snacks, but we usually order Uber Eats so we can stay on task!  A lot of water and caffeine for everyone. Sometimes we're all really pissed off because something isn't working how we want it, so we're all keeping to ourselves or feeling kinda low. But then two hours later we're jumping up and down screaming along with the lyrics, talking about how we're gonna take over the world. It's a unique experience that I wish everyone could try it!
Do you have a favorite song or favorite song to perform, whether it is your own or someone else's?
Off of PINK I think "Sorry" is my favorite! Off the next album we're writing, there's a lot of really fun songs that I can't wait to preform. I also love to sing "Crazy" by Gnarls Barkley.
Anything else you'd like to add?
I can't wait for this new album that I'm currently working on to come out! It's emotional, fun to move to, has songs that will get stuck in your head, and is more mature sounding. Every song is a bop. 2018 will be a good year!
___