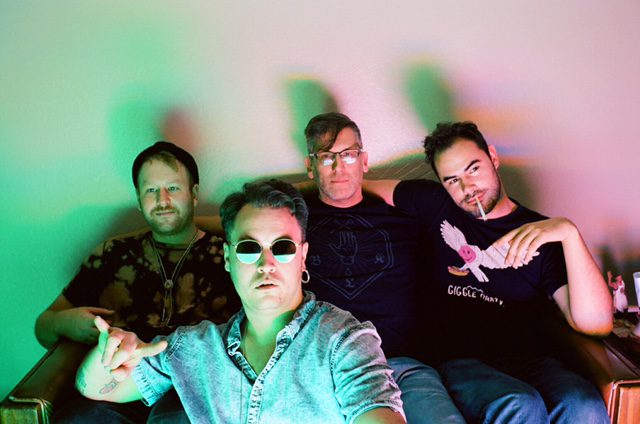 Thirteen years ago, Gibby Paul and Kix Mead, as University of Kansas students in Lawrence, formed the dream pop group Mammoth Life. They eventually relocated to San Francisco where they continued to play and record for several years. Now Gibby Paul has his own gig, expanding his vocal chops while still shredding on the guitar. The four-piece is already playing sets in the Bay area, shaking shit off the walls to warm folks up to their debut album, So Savage, set to drop this spring, with a big grin, on 4/20.
Two singles, with videos, from the LP have already dropped. The fun and raucous "Rock N Roll" was shot on location in the Pill Hill area of Oakland with a good dose of world-class air guitar. "Not the Only One" is a wonderfully trippy take on heartbreak, complete with vintage pop imagery.
Ideally, what would be the role of social media for Gibby Paul?
Social media for GP is to be a glimpse into my rock n' roll reality. You know, like me getting loaded on speed, or pissing off the porch, or like ripping a Telecaster guitar and making it scream. Bong rips, chef boyar-D, passed out in a pile of Pabst Blue Ribbon cans…Taco Bell, cigarettes, LP records and teenage rebellion.
What elements of instrumentation have been essential to you throughout your career?
I love rock n' roll. At this point in my career, I let the venues we play dictate the instrumentation that is essential to me with as few people as possible on stage playing. I like guitars, bass and drums. I like tube watts, and sub tones. Fuzz rock and dark rooms. I wanna bring it back to its roots.
Your video for "Rock N Roll" was filmed in the heart of Oakland, California. What do you like about the music culture there?
Oakland is the last of the old wild west.  Grime and stickiness and sex and drugs all are prevalent and easily accessible here and are granted free flow. I call West Oakland and Pill Hill our rock n' roll playground. 'Cause you can have an awful lot of fun and a gorgeous stage to let the rock n' roll commence and unfold upon. It is a beautiful and inspiring backdrop to score music to.
When will you be going on the road with your music? Any plans for a return to Lawrence, Kansas?
We will be touring on and off throughout all of 2018. I wanna say we will be back in LFK and KC, MO this summer.
What would you pay $1,000 to see?
If I had a thousand bones floating around, I'd buy another guitar.
___
Learn more about Gibby Paul here.