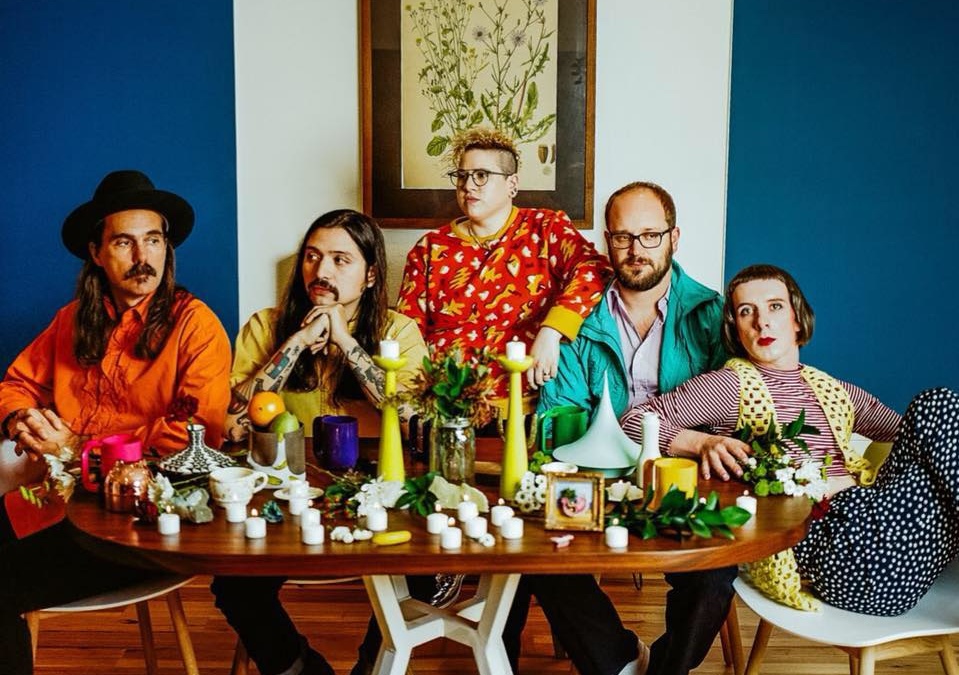 On July 12th, Austin-based indie pop act Carry Illinois – comprised of Lizzy Lehman (Lead Singer/ Rhythm Guitar), Andrew Pressman (Bass), Rudy Villarreal (Drums), Darwin Smith (Guitar), and Benjamin Rowe Violet (Keys) – will make a much anticipated appearance The Rino in Kansas City, MO. But before we head out to celebrate the summertime with this impressive quintet, we wanted to ask brainchild and front woman Lizzy Lehman some questions. Below, she delves into her inspiration and the development of the band.
What was your first musical memory? Do you think that memory has any bearing on how you create music now?
My first musical memories are of watching The Beatles' "Yellow Submarine" and Maurice Sendak's cartoon musical "Really Rosie" (with music sung by Carole King).  Hearing the music from both artists absolutely inspired my love of singing and a deep desire to create truthful, emotional, and relatable music that reflects the journey of navigating the challenges and triumphs of life.
What unique flare do you think performing and creating in Austin, TX has given to your music?
Austin is a very accepting and supportive city where it is ok, and even encouraged, to be different and loud and proud about being yourself. Performing and creating here has made it possible for my music to fully represent my awkward, wonderful, painful, scary, and hopeful personal experience without fear of being judged.
Music lovers in Austin want to see artists expressing themselves in the most authentic way possible. My music has been embraced by people from all walks of life, even by those I would never expect to connect to it, and that is truly rewarding and validating.
What's the story of how the musical project started and expanded? Was it a meet cute?
After the break up of a previous band, I knew I did not want to go back to playing solo. I had grown to love the power that comes with having a full band behind me. I set to work recruiting some of my favorite musicians- some old friends, and some new friends of friends. Darwin and Rudy have been with me from the beginning, through all the experiments, and the ups and downs. I am so grateful for their love and support. Following the painful loss of our bass player and dear friend John, we brought on Andrew, who has been a good friend and part of my chosen family for a long time. We lost our former keys player to the domestic life, but it made us think more about the sounds we want to hear, and we were very lucky to find Benjamin. He has added depth and sparkle to our sound in all the right places, with his array of synths and keys. We've made some changes to our sound over the years, with me "going electric" and accepting my love of pop and rock music. I couldn't ask for a more supportive and creative group of guys. It wasn't exactly a meet cute but the love is strong!
Your new EP Work in Progress is so vulnerable and honestly provides such a kaleidoscope soundscape. What was it like, making that EP? 
Making the new EP was a highly creative, visceral, and fully collaborative experience. It was amazing to have several days to build up the instrumentation, allow my band members to flex their creative muscles by experimenting with different sounds, and then record my vocals with a fully realized and rich musical context already in place. I was able to engage my emotions in a much deeper and connected manner while recording this EP because I was singing my most revealing and brutally honest lyrics to date.
How do you feel your music has progressed since you started? 
My music has become much more personal, honest, and revealing. It has also gone from having a very rootsy/folk feel to fully embracing my unabashed love for pop music. While the subject matter of the songs has become more earnest, the music itself has gained a more driving, catchy, and relatable feel. I have gone from making up songs about things I have never experienced, to confronting my most painful insecurities and challenging life experiences. I have become a truth-teller who is no longer afraid to tell my story.
What is your favorite part about live performance?
I love getting to belt my heart out, and in doing so I am able to share my true voice with the audience. Singing is my first instrument and my greatest musical passion. When I sing live I feel alive, and it is extremely fulfilling to see people engage in both the intimate and dramatic moments throughout our set.
What do you hope people take away from your music, and from seeing you live?
I want people to know that we are all connected by a need for love, support, and understanding. I want them to know that it is ok to feel their feelings and process their own pain. I hope that they feel comfortable enough to come up to me and let me know that they share a common experience, and that my music helps them to not feel alone in the struggle for self-acceptance.
If you could be any superhero, who would you be and why?
I would be Wonder Woman because she is strong, powerful, confident, and can face any challenge that comes her way! I would love to be able to stand tall even when I am having a difficult time maintaining stamina to get through my toughest moments.
Anything else?
I'm looking forward to meeting you in Kansas City! Please come say hello!
___
Keep up with Carry Illinois
here
.