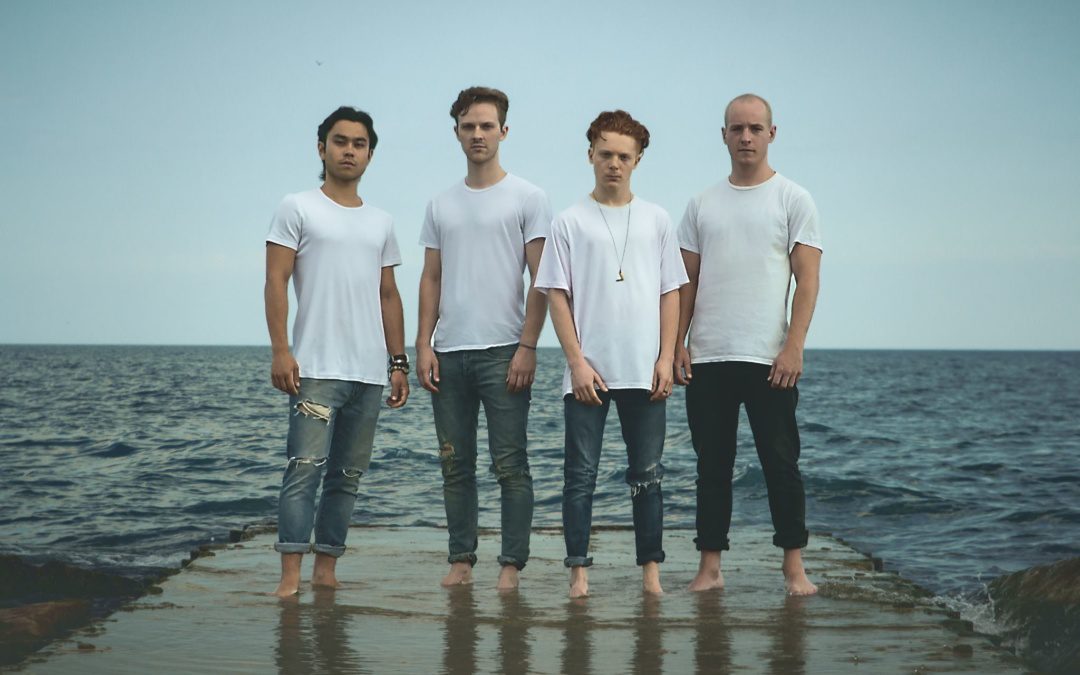 Toronto-based alternative folk collective Birds of Bellwoods – comprised of Stephen Joffe, Adrian Morningstar, Chris Blades, and Kintaro Akiyama – are no strangers to attention. Having garnered accolades like crazy in 2015 and 2016 for their work, they continue to release catchy, lyrically intense songs that hook their listener and draw them into their beautifully painted world. In honor of their first official music video premiering with Hollywood Life last week, they answered a few questions for us and brought us behind the scenes on honing down material for the album, early music memories, and Billy Murray.
Check out the video for "Let You Go", then get to know Birds of Bellwoods a little better below.
What is the first album/song you remember hearing, and who introduced it to you?
Stevie: Honestly, and it's hard to admit, but the first song I really remember listening to front to back is "All Star" by Smash Mouth. And singing along at the top of my lungs during a road trip with my family (they weren't singing).
Adrian: I think my earliest memory of music would have to be my dad singing "Maxwell's Silver Hammer" to my sister. Definitely played a big role in defining my relationship with mortality.
Kintaro: Hard to say, but "Graceland" by Paul Simon is definitely deeply ingrained in my childhood memories. I feel like that album was the soundtrack to many road trips for me as a young one.
Chris: Either Jagged Little Pill by Alanis Morissette or a Peter, Paul, and Mary album, both of which were cassettes that my family brought on a road trip to Quebec when I was 3 or 4.
Your single "Catching Up" is absolutely mesmerizing. How do you imagine your fans enjoying that music? 
Thank you so much! We're glad you're enjoying it. We hope our fans can enjoy that music in a lot of different situations. For us it's a "looking back" kind of song, so a long drive, or returning to your old neighbourhood, or maybe slipping it on just as your plane takes off. And then when the heavy drums kick in halfway through it would work well to hit some light turbulence. It goes over really well at Tupperware parties too!
Victoria is a stunning album. Did you find it difficult to hone down your material to 10 tracks, or were you building toward this album with a concept in mind already?
Honing down the material is always a difficult process. There were definitely songs we knew would make the album but we purposefully left a lot of room for experimentation and exploration. There are songs we have been playing live for a long time that still don't have a recorded form because they didn't suit the project. Luckily, there's always the next one. In the end from a large selection of songs it became pretty clear which ones told the most cohesive story and supported each other best.
Your track "Melatonin" is kind of an exact description of our lives. (And one of our favorites from the album.) What inspired that track, specifically?
That is a song that in some form or another Adrian and Stevie have been playing for several years, but it didn't take on all the elements that truly make it "Melatonin" until it came together in the studio. It was originally inspired by a time in Adrian and Stevie's lives when they were both coming to terms with unhealthy relationships that, after several failed attempts, were finally ending. Stevie wasn't sleeping well so he went pretty deep into the melatonin, and then started taking it while he was awake to see what would happen, and there you have the song.
What is your favorite track off the upcoming release? Any particular reason?
Stevie: I think that changes for us every day. Today my favourite track would have to be "Let You Go." It's got all the elements of urgency and romance that I love, wrapped up in a driving beat that always gets the crowd moving. It also started as an acoustic ballad so the development has been very exciting to experience.
Adrian: "Don't Look Back" is probably my favourite track on the record. Since it's inception, I've held it very close to my heart, and have kept it as a sort of mantra ever since.
Kintaro: Picking a favourite song is like picking a favourite child. They all have their individual personalities and characters. That being said my favourite "child" is probably "Kiss Me." That song was born in the studio, but has grown into a whole new beast in a live setting.
Chris: My favorite is "Catching Up" because it's a simple concept and a simple musical idea that I think conveys a feeling with some level of clarity. It also starts soft folk and ends hard rock so it's a kind of like a liminal zone between our two sounds.
If you could collaborate with any artist on any medium to help promote the album, who would you work with and what would you do?
Stevie: I would love to do an extended collaboration with a company in Toronto called "Vazari Dance Projects" with whom I work occasionally and the French circus company 'Sept Droigts De La Main'. Ideally we'd take them on tour and expand the nature of our shows and music like David Bowie did with La La La Human Steps.
Adrian: Bill Murray is currently travelling the world on our behalf, spreading the word. He's a great guy to have on board supporting us, and Reddit loves the stories!
Kintaro: In line with Bill Murray, I think it would be great to work with a big director like Wes Anderson. Someone who has a very specific style, but continues to grow with every new project.
Chris: I would get Justin Roiland from Rick and Morty to do a freestyle vocal part over the instrumentals to our song "Kiss Me" on the first listen and then release the first take.
Which celebrity Ryan is your favorite? Substantiate that claim. 
We have agreed that Rye'an Ginger always gets the job done.
Anything else you'd like to add?
We have two singles out already, "A Year Ago" and "Catching Up," which are available on all streaming and purchase services. "Let You Go" will be the third single, available October 20th, and will also be our first ever music video.
Catching Up:

A Year Ago:

Also we are currently on tour, with dates throughout Canada, and would love to see you there! Check here for dates. Hope to play for you soon!
___
Keep up with Birds of Bellwoods here.