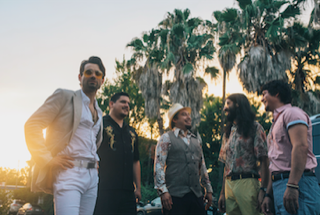 This playlist is the embodiment of Handsomebeast's new musical and visual direction. We want to paint a picture in the way that some of our favorite films do: dangerously. In reflection of how dynamically eclectic the band is, these songs venture between exciting getaway tunes with high energy to slow burners that can melt anyone into the bedsheets.
With Tarintino-ish vibes from tunes like "Black Venom" from The Budos Band and Adrian Younge's "Turn Down the Sound", you could imagine this playlist playing during a well-executed heist (some of our favorite movie plots).
In the other direction lay the smooth after effects of such invigorating action: the love making (yeeeah). Smoke something with Houston's UGK. Pour one up with Warren G. Grab your partner and slow dance to Daniel Caesar's "Get You" or Liquid Monk's "On the Rocks" before the feds bust in.
Some of these artists are huge influences on the band that stuck with us through the evolution of our personal sound, such as Gorillaz, James Brown, Talking Heads, and the Isley Brothers.
Baring in mind how musically diverse the band is, it's no wonder this playlist ranges from Kendrick Lamar to early 60's Peruvian Chicha pioneers Los Mirlos. Inspiration comes in many forms, but as long as it grooves, Handsomebeast will jam it.
This is Heist-Rock. This is Hip-Hop Noir. This is music For Robbin' Banks & Makin' Love After.
Check out Handsomebeast on one of their tour dates below!
9/13 – Hi-Tone Café – Memphis, TN
9/15 – Foggy Mountain Brew Pub – Asheville, NC
9/20 – Pianos – New York, NY
9/21 – Connie's Ric Rac – Philadelphia, PA
9/22 – Gypsy Sally's – Washington, DC
Keep up with Handsomebeast below!
Website | Facebook | Instagram