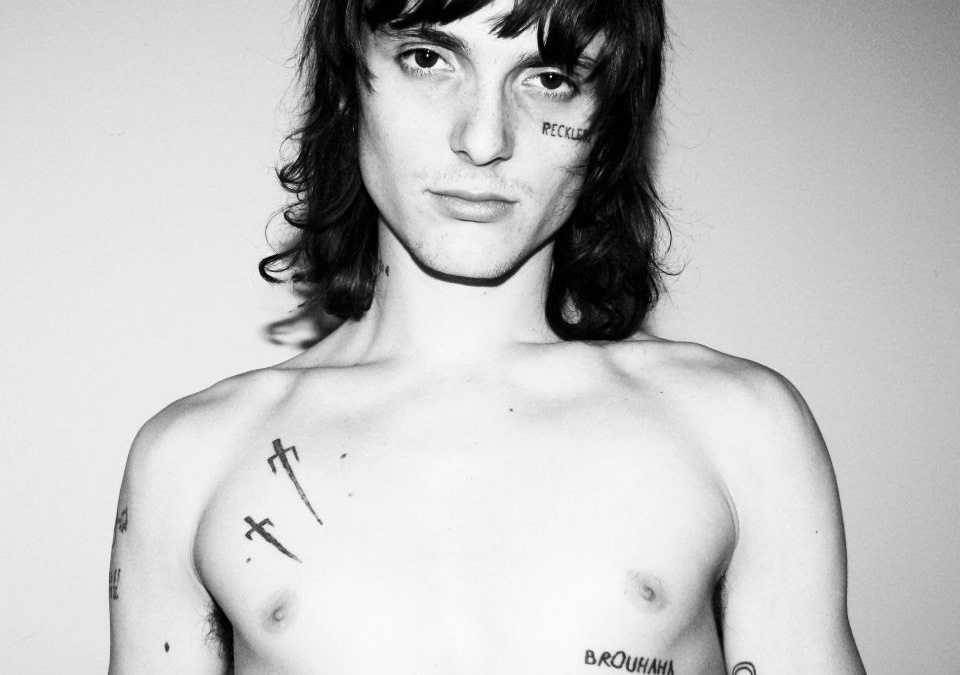 Aime Simone is no stranger to misery. He fell victim to intense bullying as a child, the trauma of which led to early symptoms of PTSD and anorexia as a teenager. There were attempts to heal at clinics where he spent his time writing poetry, but there also was a tragic sucide attempt. During a stay at a clinic in 2012, Aime got permission to attend a Pete Doherty show since he was such a big fan of his and an avid songwriter. He took his poetry filled journal along, hoping to give it to Pete. Halfway through the show he still had no idea how he was going to get the journal to Pete, so he resorted to throwing it onstage, and accidentally hit Pete in the face. Pete began to read excerpts to the sold out crowd, and when Aime screamed for Pete's guitar in exchange, he instead was pulled onstage and given the guitar to play. What resulted was Aime's first-ever performance in front of a crowd, and after it ended in applause, Aime was invited to go backstage and began working with the Libertines frontman in intense songwriting sessions. 

Today, Simone is a Berlin-based, Parisian singer and producer who is still mentored by Doherty. He produces alt-pop music that pulls from post-punk, hip-hop, soul, and 60s pop. The culmination of Simone's incredible backstory and all his hard work with Doherty comes in the form of his debut album Say Yes, Say No, which was released on July 31st. The album was entirely self-written, produced, and mixed by Simone himself, and plays like his open journal, as earnest and honest as the one that he hurled on stage back in 2012. It's inspired by Berlin's iconic techno scene as well as his past life in other European cities. 

The music of Say Yes, Say No is somewhat sparse and intimate, made up primarily of vocals, guitar, and a beat. The vocals are blurred by reverb, yet clear enough to hear every word. Its simplicity allows for sentimentality to be the focal point of the work. Although each song deals with emotions, the album doesn't have a one-track mind. You find moving melancholy in "Don't Be Sad", danceable beats in the lead single "What's Up With The World?", and even tender love in "Shining Light." With Say Yes, Say No, you find uplifting movements interwoven through the melancholia, an approach influenced by Simone's unusual and complex being.

The first three tracks embody this brooding, yet moving trait well. To start us off, "Everything's Changing" deals with his own mortality and the fear of death and the unknown, but he faces these inevitabilities with acceptance rather than letting them overwhelm him. It was inspired by the thoughts that occupied Simone's mind when he became a young father. The intimate acoustic guitar, soft, yet emotive vocals, and chill beat behind the soaring line "I've got to let go of what I've always known," amplifies the embrace of his feelings, especially in the bridge where Simone and the guitar become more spritely and when harmonies join the vocals in the chorus. "In This Dark Time" was recorded in reaction to the effects of the pandemic. It's got a bit of a groove, but is pensive in tone, asking "could you take my pain?" a line that recurs throughout, right up to the very last line where the music drops out from behind it, the words stark against the silence. "Don't Be Sad" progresses the album into a spooky realm, with its slow pace, ghostly harmonies, and morose guitar. 

By the time we get to "Strange Inside" we're enveloped by this eerie aura. The bassline, and minor 2nd interval that the guitar strums alternate between giving the track an ominous sound. The guitar is left bouncing at the end, finishing off the track without a resolution. "Strange Inside" was also influenced by the pandemic, specifically about how it can make one feel blocked, removed from human connection in the face of quarantine and isolation. The video features a performance filmed during lockdown in Berlin, providing a visual representation of the mental and physical barriers that the pandemic has created for many people. "Imaginary Lovers" is tenser, more anguished, with the lines "tell me what to do" and "barely holding on for tomorrow" showing a desperation that we haven't seen on the record so far. But this desperation with the phantom-like background vocals whispering "imaginary lovers" in your ears throughout the track and the unrelenting off-beat attacks become somewhat unsettling, continuing the subtly haunted sound in "Don't Be Sad" and "Strange Inside." 

With "Vienna", the unearthly nature of the last three tracks transforms from eerie to dreamy. The guitar exists both as evanescent chords floating in the background and a solo part that seems to have a mind of its own. Simone sings "I need you baby," letting some love trickle into Say Yes, Say No, a sentiment that is reinforced in "Hold Me Alive" with lines like "You hold me close, you hold me alive." This track uses electronic chords that phase in and out to paint an emotional background for Simone's delicate falsetto. When the guitar joins the chords at the end, it makes for a warm ending that embraces you with love. Even more, "Shining Light" marks the peak of adoration, put into words when Simone sings "All I need is the way that you love me." A hint of groove comes from the muted guitar riff and calmly snapped beat, and the chord progression is the perfect complement to the tender words.  

While Say Yes, Say No as a whole is touched with sorrow, it humbly offers some inspiring words to start to resolve that sorrow. "What's Up With The World" and "Humankind" are the best examples of this encouragement. "What's Up With The World", beyond its rather pertinent title, is a message of hope: "I can defy my fate, I choose love, I will not give up." The rhythms of this track give the listener a chance to clear their head and dance, comforted and invigorated by the lyrics. "Humankind" brings things down again, but it's the perfect ending to this album because it's about Simone's restored faith in humanity– and himself. It shows just how far this sensitive, inventive artist has come, making it the most uplifting track of all.
Say Yes, Say No is a brave and beautiful story of struggle and perseverance. Don't miss your chance to experience it for yourself.