Riley Owens just released his newest single, "Camino!" From the composition of the music to the lyrics of the song, every aspect of this single mixes perfectly together!
The guitar in the back of this track is amazing. It really adds something extra special to the already lyrically enriched song. Not only do the lyrics fit perfectly with the sound of the song, but his voice is the perfect match for all of the above. Overall, the quality of the song is amazing. It makes you feel like you are sitting on a beach somewhere. It has a relaxing and almost soothing sound, and I definitely believe that the guitar in the background adds to that feeling. 
The song being about an abrupt end to a new relationship, but still giving it this rather soothing vibe, is actually brilliant and I really like that! The song is almost like a warm blanket that is making you feel better during a hard time, such as a breakup, instead of making you feel angry and riled up.
Everyone should definitely be keeping an eye out for Riley Owens and his upcoming music. From his voice to his lyricism, he is a force to be reckoned with on his music journey!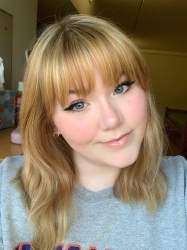 Latest posts by Ally Ferrari
(see all)