Lonr., "WORLD"
Sadie Battle
Lonr. is changing the landscape of hip-hop and rap, with his latest music video for "WORLD" being the perfect example of his fresh take on musical expression. The California-born, North Carolina residing songwriter, and rapper creates music as a therapeutic release of his own thoughts and feelings, allowing listeners a chance to escape their own minds. With the impressive start and promising future, "WORLD" builds the anticipation of Lonr.'s second project, due out next year.
The cinematic video sets a dystopian desert background for Lonr.'s isolating, gut-wrenching performance. Strong strings wash over a glitchy beat as his voice echoes with unrestrained emotion. The pain inside of him is on full visual and audible blast as he tells his story lyrically with strong flow and immense body language. Verse two really captures his struggle with "Gut-wrenching feeling, I can't kill it / Inner peace, never caught a glimpse / Always questioning what's within." This beautiful mix of raw emotion, all unrestrained details, and a modern rap beat really give Lonr. his own lane to change the wayartists evoke emotion through established genres such as rap and hip-hop.
Watch the music video today and see for yourself what Lonr. has to offer musically and emotionally.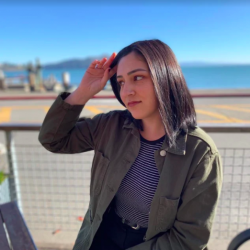 Latest posts by Sadie Battle
(see all)