Eugene, Oregon singer, songwriter and producer khai dreams debuts an acoustic version of their latest track, "Good Advice". Half Vietnamese and 21 years of age, khai dreams has been releasing music since 2017. Their sound is an eclectic blend of influences ranging from contemporary hip-hop and R&B to modern indie, surf rock, and neo-soul. This dreamy brand of intimate pop has helped them amass more than 490 million career streams and a dedicated online following. With such an impressive background and fan base, there's still something so humbling about "Good Advice". With just vocals and strings, khai dreams sets a tone for the listener to just breathe. This acoustic version and accompanying video is such a comforting, feel good vibe that seems to give you a hug as you take it all in. Bittersweet and honest lyrics catch up to you quickly though with this verse,
 "And you seem to think that we got time / But we never seem to get it right / Everyday I'm wishing there was more."
Take our advice and listen to this song today, and listen to even more sweet melodies and indie masterpieces by khai dreams from their spotify.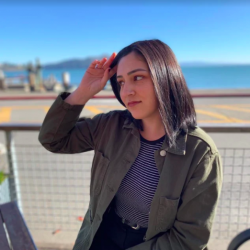 Latest posts by Sadie Battle
(see all)